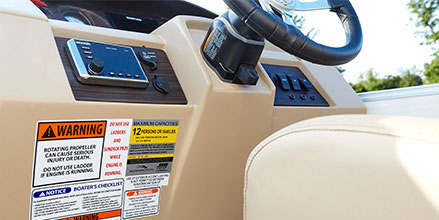 De-winterizing Your Pontoon Boat to Get Ready for Spring
Spring is just around the corner, and that means it's time to start de-winterizing your Bennington Pontoon boat in preparation for the many glorious months ahead of cruising around the lake with friends and family. But, before you launch, there are three steps that a pontoon boat owner should take to ensure that their boat is ready after sitting through a long, cold winter.


Here's how to get your pontoon boat ready for spring:


It's important to start by removing any leaves and debris that may have accumulated in your boat over time. Using a vacuum is the best way to get down into the crevasses. Cleaning out tight areas will help prevent opportunities for molding and rotting.


Take time to check Bimini tops and other covers for mildew and rodent damage. Nothing ruins your first day on the water like finding a mouse nest in the Bimini top when you unroll it. Remember, an ounce of prevention is worth a pound of cure.


2. Checking the Various Components of Your Pontoon Boat


Take time to test your pontoon battery. If you trickle-charged it during the winter, it should be in good working order. This is also a great time to check, flush or refill fluid lines. These tasks should be completed now so that you are able to hit the water as soon as the weather is warm enough.


3. Protecting the Deck of Your Pontoon Boat


Depending on the style and on-deck features of your pontoon boat, there are a variety of spray-on applications that can be used to treat and protect your topside surfaces.


*It is important to consult your local Bennington Pontoon Boat dealer before treating your particular pontoon boat with any spray-on application to ensure that it is safe for the surfaces and materials on your model.


In most cases, a mildew stain-blocking spray will keep a protective layer over materials susceptible to mildew. A can of WD-40 is always great to have around to help metal components get back into pre-winter shape. Finally, a bottle of Gold Eagle's 303 Aerospace Protectant can help bring new life and protect plastic, rubber and vinyl surfaces. Again, be sure to consult your local dealer for your specific model.


The build-up to summer is an exciting time full of daydreaming of long days on the water. Enjoy the springtime clean-up and preparation for another summer full of memories.


Follow our blog at Club Bennington for more tips on maintenance, fun and places to boat.


Contact a local Bennington dealer or visit Bennington Pontoon Boats to learn more about finding the right pontoon boat for you.