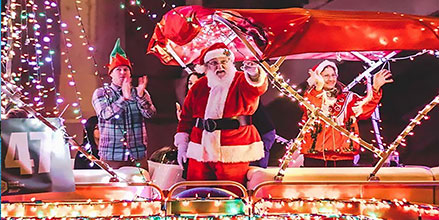 Decorating your pontoon boat for a holiday boat parade
For Bennington Pontoon Boat owners that are fortunate enough to live in warmer climates, holiday boat parades have become a popular tradition for both owners and onlookers. These parades offer an opportunity to cover your pontoon boat in strings of lights and other creative decor that is magnified in impressiveness by the water's reflection.


In these holiday boat parades, groups of boaters will get together and cruise around their body of water of choice to the delight of other boaters and shore-bound spectators.


How do you decorate your boat? It's really up to the preference and creativity of each boat owner, but here are some tips for making sure your pontoon boat really shines.


First begin by making a plan for your design. Do you have electrical outlets or will you need to use battery-operated lights? Do you have space for a tree or larger decorations without obstructing the captain's view? Consider how far you'll be from shore, larger decorations are easier to see.


When purchasing or gathering decorations for your pontoon boat be sure to only use items that are rated for outdoor use. Stock up on plenty of batteries if you are using battery-operated decorations as you don't want to go dark halfway through the parade.


When arranging your decorations, try and focus on no more than 2-3 colors as too many colors can become blurred, especially with the reflection in the water. Rope lights tend to be easier to hang than regular string lights, they do not get caught as easily in netting or other items.


Lastly, make sure you place your featured decoration up high and centralized on the boat so that everyone on shore can see.


Be sure to share your holiday decorated pontoon boats with us online on Facebook and Twitter.


Contact a local Bennington dealer to learn more about finding your pontoon boat. Learn more about Bennington Pontoon Boats at https://www.benningtonmarine.com