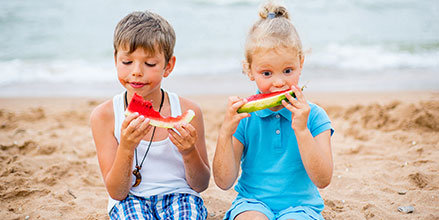 Easy Boating Snacks for Kids
Kids love boating, swimming and tubing. On the go all the time, children expend a lot of energy that needs to be replenished often -- or else they get cranky! Having a good supply of snacks on the boat is a good way to keep their disposition on the sunny side. And if they make the snacks themselves, it gives them something else to do when they need a break from all that physical activity.
Here are four great snack ideas that work well for almost every kid on board a pontoon boat. Try them all in the boating season ahead.
Trail Mix
Bring an assortment of trail mix ingredients and let your kids make their own mix! Include sources of protein like peanuts, cashews and almonds; some dried fruit like raisins, cranberries, or pineapple chunks; something sweet like chocolate chips or M&M's; and something salty or carby like pretzels or a Chex-like cereal. Give each child a one-quart zipper bag and let them experiment with different combinations to see which ingredients go best together. They can label the bag with their name (or a fun drawing) and keep it for their own snacking throughout the day.
Fruits & Veggies
Fruits and vegetables are an all-natural source of nutrition that is quick and easy to prepare. Pack a cooler with ice to keep fruits and veggies cold all day. Before you leave home, pre-cut bell peppers and broccoli into bite-sized pieces. Baby carrots are also a good snack choice. Pack dips, hummus or dressing in smaller containers to save space. Ready-to-eat fruits such as apples, pears, oranges, grapes, or bananas are a better option than fruits that require preparation or plates, like pomegranates or pineapples. To make it more fun, bring a package of bamboo skewers and have your kids make their own fresh fruit kebabs.
Crackers and...
Crackers are a great vehicle for peanut butter, cheese, deli meats or dips. Bring pre-sliced cheese and shredded turkey breast or ham. With so many options, your kids can enjoy a variety of different flavor combinations. Keep it simple with basic toppings, or spice things up with more advanced recipes like dill cream cheese and smoked salmon, bacon, lettuce, and tomato, or ricotta and honey. Choose multi-grain crackers for a healthier and more nutritious snack.
Homemade Popcorn
Popcorn can be dressed up to be sweet, savory, spicy, or any other taste-bud tantalizing flavor. There are countless recipes online for different styles of popcorn, but our favorite is this classic kettle corn recipe from AllRecipes.com. Kids will enjoy making it at home.