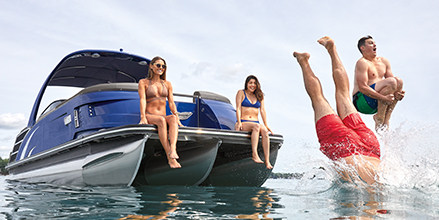 Getting Your Pontoon Boat Ready for Summer
With summer so close that you can almost smell the freshly cut grass, it's time to prepare your boat for the water. Before you can safely enjoy summer boating, you'll need to complete a little vessel de-winterizing.


1. Prepare the Engine on Your Pontoon Boat


Pontoon maintenance includes readying the boat's engine for the water. At the start of the season, change the fuel filter and inspect the spark plugs. Check the engine's other fuel levels, and be sure to change the motor oil as the substance has a tendency to become gooey during the cold months. Additional maintenance includes using a product like WD-40 to protect fasteners, linkages and electrical panels. This type of product will also inhibit rust and corrosion.


2. Check the Battery on Your Pontoon Boat


A dead battery is one of the most common issues that boaters face when they are enjoying a day out on the water. To avoid this situation, make sure that your boat's battery is fully charged and working properly before summer boating begins. Your local marina likely has the equipment to check your battery's status. They can also let you know if it's time to buy a new one. Inspect the battery's acid levels. If they appear low, refill them with distilled water. If you have a charger, plan to charge your battery overnight to make sure that it is at full power before you go boating.


3. Inspect the Exterior of YourPontoon Boat


If you store your boat in a facility instead of in the water, then complete a visual inspection before you launch it for the first time this season. Look for cracks, punctures or holes in the hull. If you see damage, make immediate repairs. A leaky boat will quickly ruin your day on the water.


4. Clean your Pontoon Boat


Boat cleaning will maintain the appearance and safety of your vessel. If you take your boat out on the ocean, then rinse it off after every excursion to protect the finish. Saltwater is corrosive, so it can be especially damaging to the surface. Even if you generally boat in a lake, it's a good idea to rinse it. By doing this, you'll avoid transferring invasive species between different bodies of water. When you keep the hull clean, you'll receive the added benefit of improving your vessel's fuel efficiency.


5. Complete a Safety Check of Your Pontoon Boat


Thorough boat maintenance includes confirming that your vessel contains the proper safety equipment. Check your first aid kit to see if it needs to be refilled. Also, inspect your exhaust outlets for blockages to prevent carbon monoxide poisoning. Before taking your boat out on the water, make sure that you have enough life jackets. If you'll be taking children out on your boat, read your state's safety regulations to ensure that they are wearing life jackets at the proper times.


6. Maintain Your Pontoon Boat to Protect our Investment


Pontoon maintenance will not only help you protect your boat from damage, but it will also safeguard your summer boating plans. With equipment maintenance, boat cleaning and a safety assessment, your boat will be ready for many tranquil summer days spent on the water.