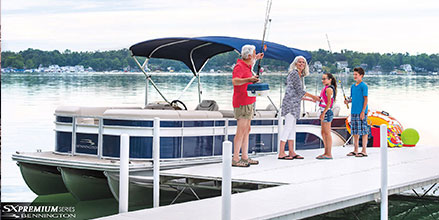 Bennington Boats and Recreational Fishing
Whether you are fishing for trout at dawn or bass after the sun goes down, we have the boat for you. Each boat is built using ultra-premium vinyl, stainless steel hardware, and quality raw materials. Selections range from 18 to 25 feet. Cruise with confidence -- 10-year, bow-to-stern and lifetime structural warranties are in place.
For a recreational fishing trip, flat-bottom Bennington pontoon boat G Series offers excellent choices. The team of dealers, designers, engineers, and craftsmen work together with owners to design dream vessels. Anglers will appreciate these beauties whether they are in local waters or offshore. The latest technology is incorporated from fish finders and navigation systems, to comfortable, durable, and stylish furniture.
After your boat is delivered, update your supply list to make the most of your water adventure. Check that you have the right rods and other equipment for the type of fish and the location you choose. Back-up rods and reels are necessary, as are your fishing license, a waterproof bag, and maps. Besides sunscreen and cameras, you definitely need a hat, socks, and an extra pair of shoes or waders. Towels, multiple pockets, and a change of clothes are essential. And never forget the insect repellant.
Take along family fish recipes, foods like fried chicken, crackers, and the ingredients for preparing sandwiches. Making the sandwiches beforehand often results in sogginess. Fruit, ample bottles of water and snacks can be stored in your custom Bennington refrigerator.
Later, whether you are camping out or returning to the marina, try these tasty recipes for just-caught fish. Add them to family-favorite fish recipes for breakfast, lunch and dinner.
For a more challenging fishing trip with family or friends, first decide which fish species you want to pursue. You will have the benefits of a captain, crew members, and deckhands on a charter. Key West Florida is known for its blue-water, flats, and reefs and variety of mooring options. The marshes of Louisiana and Mississippi feature the challenging red drums, black drum, and seatrout. Just an hour or so from New Orleans, this is a fabulous sight-casting environment. Bermuda for blue marlins or the Bahamas for bonefish, permits, and the occasional tarpon all well worth the travel. Local tackle shops, internet message boards, and websites can assist you in the planning stage.
There are over 46 million recreational fishermen in the United States according to the American Sportfishing Association. If you are one of them, pursue your pleasure in a luxury Bennington pontoon boat. Custom rod holders, tackle storage systems, and space for bait and tools can be designed to your specifications. From the cockpit layout to deck space, this family-owned company will satisfy all requirements.