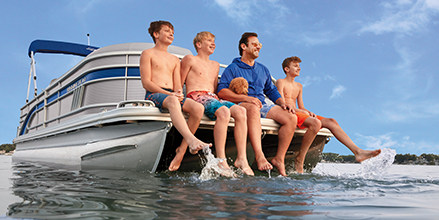 5 Types of Pontoon Boats that Fit the Whole Family
Whether you are Rhode Island on the Atlantic Seaboard or on a lake in California, you are probably going to see an abundance of pontoon boats. Rather than riding on a fiberglass hull, pontoon boats have two or occasionally three aluminum "logs" they float on. Once upon a time, they were pokey and slow, rather unsightly, and not extremely seaworthy; yet those all are issues from the past. Pontoon boating today may offer a comfortable ride with speeds fast enough for water sports, all packaged within a sporty, contemporary design.
Believe pontoon boats are ungainly and slow? Think again. Pontoons are very stable, they have a lot of deck space, and their modular nature means it's possible to select from countless seating arrangements and add things such as towing arches, wet-bars, and much more. Check out the Bennington Pontoon Boat lineup for an endless array of floorplans and options. Read further and we will talk about the ins and outs of this relaxing, fun, but thrilling boat class.
1. Performance Pontoon Boats
If you have the need for speed, pontoons that have a lot of horsepower on their stern may be just the ticket. The "rocketoons," as we have heard them referred to, can have as much as 800 ponies. Plus, with the proper performance package, you will be carving turns at exciting speeds.
2. Watersports Pontoon Boats
It's possible to tow skiers, tubers, and wakeboarders with virtually any pontoon that has enough horsepower and some type of towing apparatis, yet there is a category of pontoons that are specifically designed for the tasks. Often, they feature sport arches or towers that have towline mounts, ski and board brackets, and plenty of space for your toys.
3. Luxury Pontoon Boats
They're all about comfort. Imagine upholstery and seating arrangements that are so comfortable it feels like you are lying on a cloud. The top-end models feature twin engines, joystick steering, full stand-up bars, huge chaise lounges, and cool-appearing LED lighting, as well as fencing schemes.
4. Fishing Pontoon Boats
If your adventures in boating bend toward fishing, do not think that you will have any problems locating a pontoon boat appropriate for your needs. As a matter of fact, these boats are excellent for fishing; with a lot of deck space for fishing rods, live-wells, and additional tackle. Generally, pontoon boats also have low draft, which makes them good for getting up in skinny water.
5. Family Fun Pontoon Boats
It wouldn't be right to compare the pontoon family boat category to station wagons, so perhaps it is better to imagine them as the sports utility vehicles of the sea: they'll do numerous things well. Whether exploring, sheer relaxation, or towing tubes, a strong family pontoon has an ergonomic layout, a lot of lounge space, and enough choices to keep its comfort factor high.
For more information on present pontoon boat layouts, contact Bennington Pontoon Boats today!