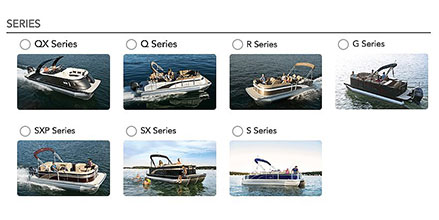 Designing A Pontoon Boat That Fits Your Needs
Pontoon boats are incredibly versatile. With the right customization, a pontoon can suit your boating activities and your sense of style perfectly. Bennington Marine does everything possible to guarantee you'll be happy with your new boat, which is why we've created the Bennington Design Center on our website.


The Design Center enables you to custom-build your Bennington pontoon boat with full control over layouts, features and options. Maybe you're looking for something suited for family outings, with features geared towards activities like swimming and water skiing. You might be an avid angler, interested in a boat with bow pedestal seats, extra storage, and a fish finder. Maybe you enjoy hosting friends for casual dining, so you want a galley and dinette. Whatever your boating interests, you can select a Bennington to suit.


The Design Center is flexible. You can start designing your boat by choosing the floor plan, the length, important features, or the Bennington series you're interested in. Bennington offers seven series of pontoons, from the popular and affordable S Series to the luxury stylings and higher performance of the QX Series, with several in between to match your lifestyle. Once you've decided on a series, you explore floor plan options and then move into details such as colors, materials, electronics, and engine performance.


Alternately, if you know you want a 25-footer, for example, you can select that and see what series, floor plans and layouts are available in that length. You can start with a floor plan (stern lounge, bar, fastback, etc.) and move on from that point, or start with major features that are important to you (like I/O or dual-engine power, a tower or arch, or 10-foot width) and filter your options that way.


Starting from any direction, the Design Center shows you the available options based on your previous choices and prompts you to narrow it down further until you're presented with the floor plans and models of the boats that meet all your major requirements.


Select the model you want, then move on to the next section, where you get to specify the design details. Here are the major options available in each section:


The Exterior tab gives you choices for panel color, accent panel color, graphics, logos, canvas color and additional top/enclosure options.


The Interior tab allows you to pick the style of upholstery, base vinyl color, furniture upgrades, and accent colors. You can also select add-ons like portable cup holders, additional tables and chair upgrades. Finally, you pick your trim style, helm and stereo upgrades, and electronics like a fish finder or GPS. As you choose colors and materials, the Design Center will display changes on a visual representation of your future boat. You'll see how each change looks, and you can easily go back and change the options until you're perfectly satisfied.


The Flooring tab offers a wide selection of vinyl flooring design choices to match your interior colors.


The Engines/Performance tab gives you choices of different engine types, makes, and sizes, and performance add-ons like a larger fuel tank and a saltwater anode package.


On the Additional Options tab, you'll choose features like docking lights, underwater illumination, rail upgrades, a porta potti with privacy enclosure, ski tow bars, and rod holders.


As you choose different options and features, the price displayed at the top of the page will change to reflect the build you've selected.


Once you've finished customizing your pontoon boat, the last category is Submit For Quote. Fill out the customer information fields so that a Bennington representative can evaluate your quote and contact you with an estimate.


The Bennington Design Center ensures that everyone in the family gets exactly what they want to satisfy their boating needs and sense of style. Visit the Bennington Design Center to see how we can help you get the boat of your dreams.