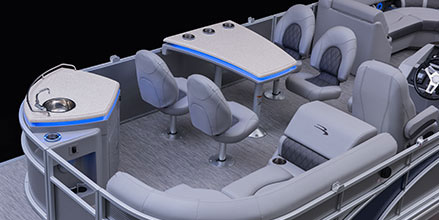 Using the Bennington Design Center
If you build it, you can buy it. Head over to our Bennington Design Center right now to start choosing all of your component parts to create the perfect dream pontoon boat you have always wanted. With our website, you can sit in the comfort of your living room and spend all the time you want putting together your dream boat. Think about your lifestyle. Do you have little kids or are you, empty nesters? How do you like to spend your summer? Do you want to fish in solitude, go fast, host parties, or swim? No matter what you desire from your pontoon boat, we can make it happen. You can use the design center to customize your boat, and then order it from your closest Bennington dealer. If you are already mourning summer's end and imagining next year, get started now preparing for the season and planning all your pontoon adventures.
Series Options
First, pick your series. Select from Q, R, G, S, and SV. One of these will be a perfect pontoon for you. Our Q Series is absolutely luxurious. These boats are elegant, and as streamlined as a pontoon gets. Our most popular and best-selling pontoon, the S Series, offers the widest selection of floor plans, features, and options. The models within this series are loaded with standard options with many customizable choices to fit your lifestyle. Or start your adventures as a pontoon owner with the SV Series, which is perfect for the young family who loves to fish! And there's a wealth of options in between. Part of our R Series pontoons, the RX Sport model, for example, is masculine and rugged, though still extremely sophisticated. The G Series offers all of our premium features as standard options. With a variety of different floor plans, you're sure to find a configuration in this series that suits you. Once you have selected your series, you are on to the next exciting part of your virtual build.
Floor Plans
Your pontoon's floor plan is going to determine what kind of fun you are having in your pontoon on the water, so think about how you want to spend your boating days. The R and Q Series can have a single or dual engine (it can be customized above and below deck). We offer a specific floor plan for fishing, because we know our customers are anglers at heart. The stern lounge is a nice option for entertaining and is a featured floor plan in many of our series lines. The SX has a center console, which is great for a group of friends. You will find fishing models from 17-27 feet in both narrow-beam and standard with decks. For the party planners, there are entertainment models with bars, galleys, and dinettes from 24-29 feet with standard 8-foot by 6-inch-wide decks. Do you love to boat with the kids? Family-friendly models have a quad bench (stern radius), swing back, club, stern lounge, and L-Bench floor plans from 18-30 feet in all three deck widths.
Length Options
Our pontoons range in length from 16-30 feet. If you need to tow your pontoon, you will want to make the length a consideration. There are good reasons to choose a smaller craft, though many pontoon boat enthusiasts are looking for a place to host their crowd, so a longer boat makes more sense.
The compact deck, which is 17-19 feet, is suitable for calm bodies of water accommodating groups of 6 or 7 people comfortably, depending on the floor plan. The S18 Value Series with an L-Bench option is a perfect example.
A mid-sized option, with a length of 20-24 feet is perfect for most inland lakes and rivers and is good for groups of 9-10 guests, depending on which floor plan you choose.
Then there is a large deck length, which is 24-30 feet and suitable for larger bodies of water and holds groups of 12-14 comfortably.
Keep in mind that when you are considering deck length, the number does not include the engine.
Design Features
Finally, there's design features to consider. This is where you really can make your pontoon your own. Choose a bar/dinette option if you are going to be out boating with the kids or if you are a foodie who loves to host dinner. For a classy appearance, look at adding in a tower or arches. Twin engines are fun if you want to go super-fast. A windscreen is a good idea for some pontoon captains, especially those with a need for speed. And there's always the option of a fastback stern, which is a great way for your passengers to see the sights.
Adding a performance package to 8-foot by 6-inch and 10-foot-wide beam boats increase the boat's maximum HP and person-carrying capacity, offers a smoother ride especially in choppy water, and increases the top speed and turning radius. What features will you add on?
You can have fun designing your perfect pontoon on our website. Once you have it perfectly crafted, find your nearest dealer and make it a reality.