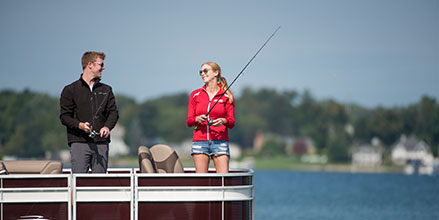 What to Look for When Choosing a Bennington Fishing Boat
When you take your Bennington Pontoon boat out for a leisurely fishing trip on the lake, you will spend the day in comfort, drifting, casting, and reeling in the best that summer has to offer. Do you head out to the middle of nowhere to be alone, find some peace, and clear your mind through the meditative act of fishing? Do you want to teach your child the art of patience and baiting a hook, the way you were taught? Are you a serious angler hoping to catch the big one this year? No matter what your fishing goals are, we have the ideal pontoon for you. Here's what to look for in a Bennington craft you want to use for fishing.
Features


If you aren't going to catch and release, you will want your fishing boat to have a live well. We also have packages that include angler stations, fishing graphs/fish finders, and a trolling motor gate. You want the features every fisherman expects in a fishing boat; when investing in a Bennington Pontoon, you get to fish from the comfort of our luxurious furnishings with a well-appointed floorplan that makes it easy to reel in that big catch you've been chasing. While we offer many models of fishing boats, there is one that floats above the rest.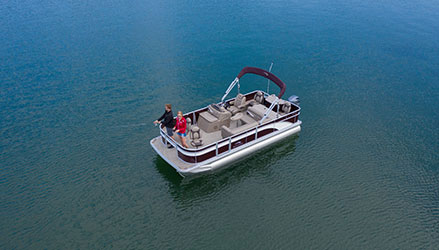 The 20SF
Why do we love the 20SF as a fishing vessel? This model offers four pedestal-mount fishing seats, a stern fishing station that has two-rod holders, to hold a total of four rods, and includes an integrated fish tape and live well. If you want to upgrade for even more excellent amenities, we can do a modified front gate to accommodate an electric trolling motor, and a rod storage compartment that locks. If you really want a top of the line experience, our Pro Angler Fish Station comes complete with a large live well, integrated tackle boxes, a fish-cleaning counter space, and a lower storage drawer. This pontoon is approximately 20'11" and not too beamy at 8'6" – with a passenger capacity of eight adults. It's just the right amount of space for you and your friend to fish comfortably.
It's all up to you. Whether you want to start your life as an angler or get serious about sport fishing from your pontoon, we have the ideal model that can be customized to become exactly the fishing boat you've always wanted. You'll always be comfortable on a Bennington. Visit your local Bennington dealer to build the perfect fishing pontoon for you.