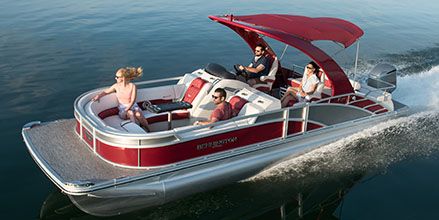 A Bold Step Forward
Introducing the All-New 2020 Bennington R-Series Bowrider
The all-new Bennington R-Series Bowrider will change everything you know about pontoons. The bold, forward-thinking design elevates the experience beyond what was previously thought possible by combining the most coveted attributes of a pontoon and a fiberglass bowrider into one uncompromising design only Bennington could deliver. The R-Series Bowrider is more than the evolution of the pontoon; it's revolutionary.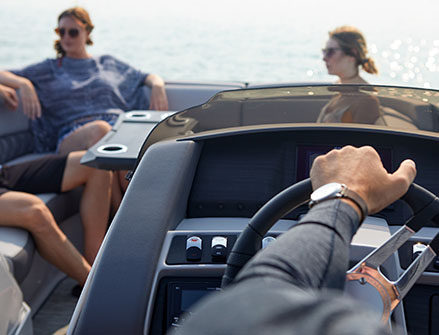 To step-up and engineer this industry-first, patent-pending pontoon design, we started by creating the first of its kind step-down U-Lounge™ bow seating configuration. The design creates an entirely new seating environment; one that feels more connected to passengers but as well as to the water itself. This allowed us to create the Vantage-Point™ Captain's View helm. With lowered bow seating and rails, we've greatly increased driver sightlines making it easier to drive, dock, and talk to other passengers.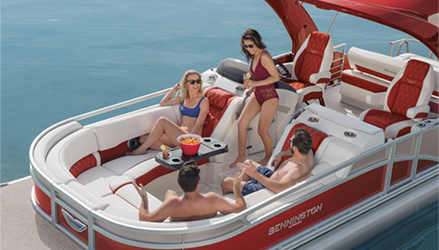 But there's more to the R-Series Bowrider than just an entirely redesigned interior space. We wanted a boat that would also deliver uncompromising performance. To get there, we developed the Integrated V-Hull™ Performance Package for speed, handling, and ride comfort that today's fiberglass boats simply can't offer. This new configuration also delivers more storage with up to two large in-floor center compartments big enough for wakeboards and more. We also engineered this platform to be easily trailered using a standard tri-toon trailer while also having the proper space for those who use boat lifts.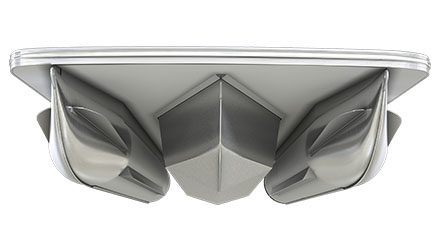 Holding true to what makes a Bennington a Bennington, we spent time with our customers learning how they boat. We found that our boaters needed an easy to access space for all their smaller items for everyone on the boat, such as purses, wallets, food & snacks, sunscreen, phones, charging cables, wallets, sunglasses, diaper bags, towels, etc. Every Bowrider has two Integrated Bench-Back Storage compartments with access both from the boat and dock, even with the playpen cover on. There is no need to climb under the canvas if you forget your phone. Guests can even charge their phones while stowed.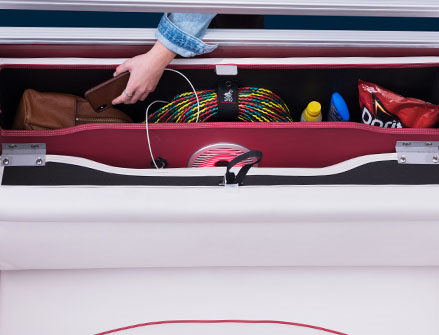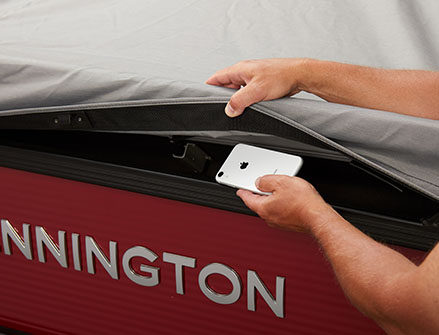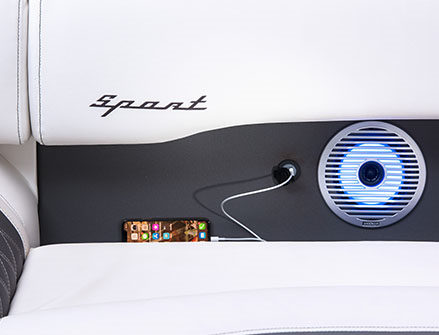 Still, this is just the beginning of the entirely new R-Series Bowrider. Other features include:
All-new sleek low-profile bow rails with View Ports™ for enhanced visibility, comfortable sandbar conversations, a more connected feeling to the water, while adding the convenience of ideally located docking handles.
All-new luxurious high-back chaise lounge chairs with adjustable headrests.
Quick-access lumbar storage pockets for items like cell phones.
An optional mid-ship fiberglass port console is an easy to access storage space located at the port entry. Complete with a solid-surface countertop, a stainless steel handle, and additional lighted cup holders.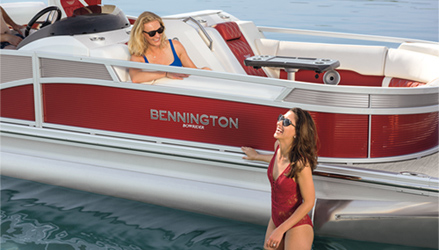 The R-Series Bowrider is available in seven floor plans ranging from 20 to 24 feet in length in both Fastback and Swingback seating configurations.
The all-new Bennington R-Series Bowrider is destined to redefine the industry and everything you believed a pontoon could be with a combination of coveted features and performance attributes. To start your journey toward the ultimate boating experience with the all-new R-Series Bowrider visit your local Bennington dealer or look for it at an upcoming boat show near you. The revolution is here.
Check out our many customization options today and get ready to open up a whole new world of design possibilities.