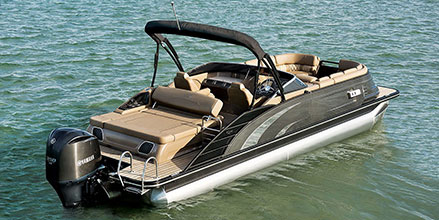 Building a Pontoon Boat with Bennington
Whether the thought of owning your own pontoon boat leaves you fantasizing about leisurely fishing trips or cruising along the coast under the shining sun, a Bennington provides all of the features you need to enjoy yourself. If you want a boat that does more than just float, you'll find optimal performance, power, comfort and luxury in a Bennington.


The boat of your dreams should be tailored to your passions. Build your own pontoon boat to take home a vessel that reflects your casting prowess and laid-back lifestyle.
Create a Luxury Custom Pontoon Boat
According to Boats.com, pontoon boats are the fastest-growing marine vessel category. At Bennington Marine, you can create your own custom pontoon. Bennington vessels are luxurious and refined. The upholstery envelops you in comfort, and you can customize your floor plan. The seating is ergonomic and optimally constructed to provide you with the best balance of comfort and support. Cleaning the boat's seat coverings is and they hold up to the intense use that your well-appointed boat is going to get.
Custom Options for your Pontoon
Select a pontoon from the QX, G, SXP, SX and S series if you're looking to cast a line into the sea. All of the Bennington models are ideal for cruising whether you're gathering with friends at a large lake or speeding through salt water. When you build your own boat, you can choose one with arches or towers, dinettes and bars for entertaining, twin engines, an inboard/outboard motor and a variety of windscreen options. You can also customize the length and width of the deck. Personalizing your options lets you design a fishing boat that's just as comfortable for your non-fishing friends or a leisure vessel that's great for trawling.


Hydraulic steering makes the Bennington pontoon boat handle like a V-hull vessel, making it ideal if you're feeling a little sporty. An available wave shield can be added under the deck to cushion your ride and reduce roughness. A Bennington is stronger than many other pontoon boats. The seating is known to be the most comfortable in the industry. When you're making one of the most important purchases of a lifetime, you'll be confident that you're getting exactly what you want when you use the Bennington boat builder.