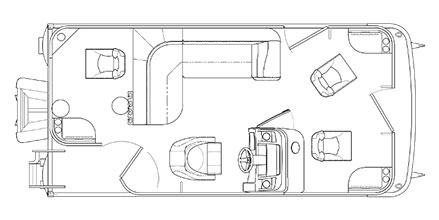 Designing Your 2019 Bennington
Owning a pontoon boat is a fun investment. And, just like any other major investment, when you're able to customize it to your specific needs you're sure to enjoy your boat that much more. At Bennington, we make your dreams of the perfect boat a reality with our simple and easy online boat customization tools. Whether you already know which Bennington pontoon boat series you're interested in or you're starting from scratch, have fun with your design while incorporating all of the upgrades and features you love! Keep reading to learn more about designing your own custom boat with Bennington.


Customizing Your Bennington Pontoon Boat


Series


Different pontoon boat models suit different boat owners better than others. This is why choosing the right series of pontoon boat is so important. When you first use our customization tool, you can choose which series best fits your needs, ranging from luxury to performance to ultimate value. Our available series options include:


QX Series – Luxury Fiberglass
Q Series – Refined Luxury
RX Sport Series – Sport Luxury
R Series – Luxury and Performance
G Series – Mid-Class Luxury
SXP Series – Premium Value
SX Series – Mid-Class Value
S Series – Value


Floor Plans


Depending on your interests, the type of floor plan you choose for your custom boat can make or break the design. Luckily, we have a number of great floor plans that make it easy to take your boat from a day of fishing with your family to an evening of relaxation and fellowship with friends. Our current floor plan options include:


Club
Cruise
Bar
Fishing
Stern Lounge
Stern Radius
Fastback
Swingback


Popular Features


Once you've decided on the right pontoon boat model and floor plan, you'll need to choose a few key features that will make boating even more comfortable and help to increase the overall performance of your boat. Some of the most popular features you can choose from include:


Arches
Dinettes
I/O (Sterndrives)
Towers
Twin Engines
Windscreens
8-Foot Narrow Beam
10-Foot Wide Beam


Additional Features


Once you've got the basics design elements down, you can customize everything from your interior and exterior colors to flooring, lighting, engine performance and so much more!


Create Your Custom Boat with Bennington Today


Owning a boat is a thrilling investment that should bring joy to your life. So why not customize your pontoon boat to fit your specific needs? With Bennington, we make designing your dream boat simple and easy. To learn more, be sure to check out our customization tool online today, or reach out to your local Bennington dealer.