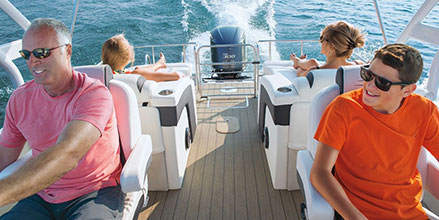 5 Best Illinois Lakes For Pontoon Boating
If you're planning a pontoon boat trip in Illinois, we'll let you in on the secret: there's far more to the "Land of Lincoln" than prairies and farmland. The state is connected to some of the most well-known bodies of water in the country (do Lake Michigan and the Mississippi River ring a bell?) making it a great pontoon boat destination. In fact, if you have the time, you could travel from Chicago to the Atlantic ocean without ever having to leave the water.


Here are our top-5 picks for the best boating lakes in Illinois:


Lake Michigan
Of the five Great Lakes, Lake Michigan is the only one that is located entirely within the United States. Connected by smaller lakes, rivers, and canals to the other four Great Lakes, as well as the Atlantic Ocean via the St. Lawrence River, one could put in at Lake Michigan and never have to get out in order to see the world. At more than 22,000 sq. miles in size and nearly 1,000 feet deep in places, the lake is an ideal spot for largemouth bass, bowfin, and lake trout.


Because being on Lake Michigan takes you through four states, there is always something to do on the lake and in the cities that you can travel to. The Navy Pier in Chicago has indoor shopping, restaurants, and a Children's Museum. They also host fun, family events like fireworks displays all year and a holiday expo where they showcase beautifully decorated Christmas trees from all over the world. If you want more water adventure, you can rent paddle boards and jet skis or take a site-seeing tour of Chicago's shoreline.


Spring Lake/Mississippi River
Spring Lake, just south of Savanna, Illinois, along the northwestern border with Iowa, provides immediate access to the mighty Mississippi River. The lake, surrounded by wildlife conservation areas, an observation deck, and walking trails, offers recreational fun both on and off the water. Make a day trip across the Mississippi, and across the state border, to Iowa's only island city, Sabula, which features a beach and campground.


Carlyle Reservoir
Planned and built by the Army Corps of Engineers in the 1950s and 1960s, Carlyle Reservoir is the largest man-made lake in Illinois; it is also the largest lake solely contained in Illinois. The lake is a popular sailing and fishing destination known for its channel catfish, flatheads, largemouth bass, crappie, and bluegill.


Rend Lake
Just behind Carlyle Reservoir is Illinois' second-largest man-made lake, Rend Lake. Completed by the Army Corps of Engineers in the 1970s, the lake covers 18,900 acres and averages 10' in depth.


Rend Lake is home to some of the best recreational amenities in the area. From camping, hiking, and fishing to golfing on a PGA course, there's something for all outdoor enthusiasts. Rend Lake offers year-round amenities with great cafes, restaurants, wineries and museums ensuring a bit of relaxation for the whole family.


Lake Shelbyville
Lake Shelbyville is home to a variety of outdoor recreation activities. In addition to being a renowned boating, catfish and bass fishing spot in Illinois, the area also features popular bicycle trails, campgrounds, marinas, hunting, swimming, picnicking, and golfing options.


Now that you're ready for a pontoon-boating adventure in Illinois, the only thing left to do is find your next Bennington Pontoon Boat at a dealer near you. Start designing your Bennington Pontoon Boat today with our online design center, where you can customize every feature for the perfect pontoon boat.