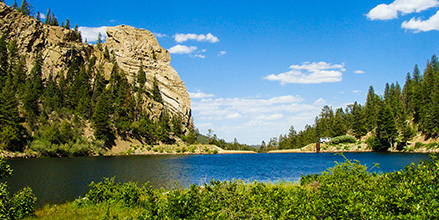 Top Five Best New Mexico Lakes for Pontoon Boating
Do you live in New Mexico, or have always dreamed of visiting? The American Southwest is full of many natural majesties, but the boating there is like something in a vivid dream. The world feels bigger and time seems to slow down when you are on your Bennington pontoon on one of the sublime lakes of New Mexico. There is so much rich culture and history to explore, art, food, and wildlife. But the view from the deck of your Bennington boat is the most breathtaking experience you can have. These are our five favorite lakes in New Mexico where you can enjoy your Bennington luxury pontoon boat.
1. Navajo Lake
This lake is located among the stunning sandstone mesas about an hour east of Farmington. There are coves where every kind of freshwater fish will congregate, and trout run plentifully in the San Juan River that flows from the Navajo Dam. Anyone would be amazed by the cool stone views and the opportunity to explore the land when not out enjoying the breeze from the deck of your Bennington pontoon boat.

2. Elephant Butte Lake
Nothing beats Elephant Butte Lake in terms of sheer size and beauty. It is the largest lake in New Mexico, about 40 miles long. If you are a fisherman, hire a personal guide for the best experience; you can hope to catch some amazing stripers. It is located inside the largest of New Mexico's state parks, on the Rio Grande near the southern border. You will feel taken out of your everyday life and deposited in a magical place. It offers places to camp, both rustic and glamorous, and opportunities to enjoy all sorts of water sports. And if you are the sort of pontoon boater who prefers to do nothing at all, the spectacular scenery will provide a place for your worries to jump off and drift away into oblivion.
3. Santa Rosa Lake
Attention, families with small children, this lake is especially for you. There is a floating playground that kids of all ages enjoy. It will be a beloved destination for many years to come. This lake also suits the older generation, as it is situated near a charming little village with a wonderful history museum. Everybody wins at Santa Rosa Lake because there's also paddle boarding for the teenagers, hiking for dad and birdwatching for mom in the beautiful surrounding environs.
4. Quemado Lake
Bring the hunters and fishermen in your crowd out to Quemado Lake. There is a huge herd of elk, for those who appreciate big game, as well as catfish, trout, and plenty of bass for the angler. It's located inside Gila National Forest, a gorgeous, rugged wilderness like no other place you have ever seen. Artists love to paint the scenes of natural cathedrals that spring from the earth. This is a quiet and rural place for contemplation. An afternoon of floating along on your Bennington pontoon will be one of those perfect days you will never forget.

5. Storrie Lake
Storrie Lake may be small, but she is mighty and conveniently located close to Las Vegas, when you need to escape Sin City for the peaceful solace of your Bennington pontoon. This is a fun one. There are always crowds of locals and tourists alike, and it's not only a great escape but a great place to meet friendly people and hang out where the locals do. It's pretty, it's lively, and it offers incredible views of the Pecos Wilderness.
Are you ready to explore the lakes of New Mexico? Build or desig your Bennington pontoon boat today with our 3D design center. With our 3D design center, you can customize every feature of your Bennington pontoon for the perfect pontoon boat for the waters of New Mexico.!