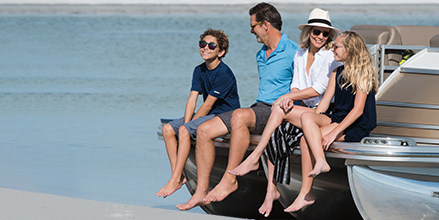 Top 5 Pennsylvania Lakes for Pontoon Boating
It's finally the perfect time of year for boating in Pennsylvania. It's time to get your pontoon boat out of hibernation and take it to the open waters once again. Whether you like to spend the summer months exploring the best fishing spots throughout the state or you're more of a water-sports fan, knowing where to go for the best Pennsylvania boating is the key to a great season on the water. Here are five of our favorite lakes in Pennsylvania for pontoon boats.
1. Lake Wallenpaupack
As the third-largest lake in Pennsylvania, this freshwater lake features an 84-kilometer shoreline located within the gorgeous Pocono Mountains and has been a popular vacation destination for decades. Boating enthusiasts will love Wallenpaupack for its excellent fishing opportunities, as well as sailing, swimming, and hiking.
2. Lake Nockamixon
As the largest lake in Bucks County, this lake is the centerpiece of Nockamixon State Park. In the warm months, the lake is perfect for fishing with varieties including bass, walleye, pickerel, and carp available frequently. In addition to time spent on your pontoon boat, the area around the lake provides plenty of opportunity for hunting, mountain biking, and hiking.
3. Beltzville Lake
Located within Beltzville State Park, this 949-acre lake at the foothills of the Poconos is fed by the trout-filled Pohopoco Creek and is ideal for fishing, swimming, and boating. Anglers will enjoy fishing for largemouth and smallmouth bass, trout, catfish and many other species. Beltzville State park has activities for all ages, so the whole family can enjoy a full day on the lake on your next lake excursion with your pontoon boat. The sandy shoreline along the lake is perfect for beachgoers and swimmers.
4. Marsh Creek Lake
Located within Marsh Creek State Park, Marsh Creek Lake is a man-made lake that is surrounded by trees and other relaxing scenery. Fishing is the most popular sport on the lake with black crappie, largemouth bass, channel fish, and panfish found in abundance here. Visitors also use the lake for windsurfing, kayaking, and sailing.
5. Canonsburg Lake
This picturesque lake is dedicated to fishing and boating, sitting within the Washington County limits. In fact, the Fish and Boat Commission goes above and beyond to make fishing here enjoyable. They stock the lake with trout and other fish species throughout the year and even make sure that the water is handicapped accessible from the pier.
Ready to get out on the water this year? Make sure to prep your pontoon for summer after the lon winter months. Don't hit the water without looking at our wide variety of luxury, customizable pontoon boats. Visit your local Bennington dealer today to learn more.