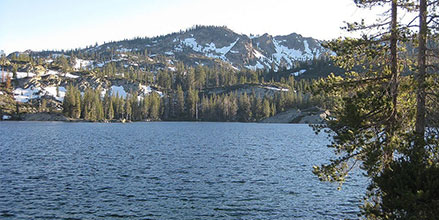 5 Great California Lakes for Pontoon Boats
California, with its variety of scenic wonders, over 830 miles of Pacific Ocean coastline, and numerous lakes, is a boater's paradise. Of the 45 largest fresh water lakes wholly or partly within the state, these five offer superb opportunities for pontoon boats.


Big Bear Lake


This popular lake is surrounded by cool pines, 5,000 feet high in the San Bernardino Mountains and two hours east of Los Angeles by car. Big Bear is the premier summer and winter playground for southern California.


Pontoon boats are favored by many lakeshore homeowners and for visitor rentals. There are numerous docking facilities, including marinas at Big Bear Village and at Fawnskin on the eastern shore as well as a sandy beach at Eagle Point.


Continuous stocking of rainbow trout provides exciting fishing. There are also bass, bluegill, and catfish to be found in the shallows along the shoreline.


Lake Tahoe


Tahoe is a huge lake on the California-Nevada border east of San Francisco. It's known for its clear water, extreme depth, and incredible natural setting in a bowl of wooded mountains.


Pontoon boats are particularly popular on the south shore of this famed lake where there are numerous marinas and sandy beaches and plenty of activities for all members of the family.


Trout and smaller fish thrive along the shoreline. Most of the bigger fish are caught further out in the lake in deep water. The lake is so big that you need to keep close watch on the weather if you venture far from shore, because conditions can get pretty rough.


Lake Havasu


This dam-formed lake on the Colorado River spans the border between California and Arizona. There are a number of excellent marinas with public boat ramps available.


Havasu is a favorite of "snow birds" who seek the desert warmth during the cold winter months back East. Summer can be quite hot, but that doesn't dampen the spirits of the boating crowd.


Fishermen come from all over to fish for record stripers and catfish, bass, crappies and sunfish.


Clear Lake


Clear Lake, 90 miles north of San Francisco, is the largest natural fresh water lake in California.


Free boat ramps are located all around the shore. There's enough open water so that water skiing, sailing, and pontoon boating can all go on simultaneously without interfering with each other.


Clear Lake brags that it has the best bass fishing in the West. Trout, bluegill, and crappie are also abundant.


Shasta Lake


The state's largest reservoir, with over 33,000 acres of lake surface, is located in the mountains near the Oregon border.


Houseboats and pontoons are favorites for exploring the smooth, wind-free inlets and bays for hours and days on end. There are numerous marinas situated along the lake's shores with ample facilities for launching and mooring.


Fishing at Shasta Lake is ranked as excellent, with more than 20 fish varieties.


There's no better way to enjoy these five "great lakes" in California than on a pontoon boat by Bennington Marine. Find a dealer near you.