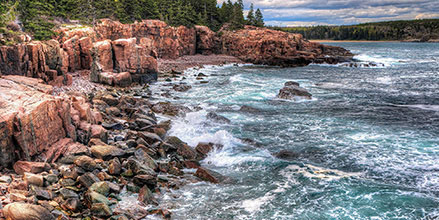 5 Great Places for Late Fall Pontoon Boating
Fall is winding down, the perfect opportunity to enjoy its last hurrah before your boat is put away for the season and the snow flies. If you own a beauty from Bennington, you know how important it is to capture every possible moment on the water. Take this opportunity to enjoy nature at its best and make memories that will tide you over until spring arrives. You're sure to fall in love and be back the following year.
Venture to Bar Harbor
If you've never been to Maine, now is your opportunity to experience the wonders of Bar Harbor. You'll be at the entrance of the Acadia National Park and be able to marvel at the state's rocky coastline and autumn foliage. Stop in for the catch of the day and shopping at local shops to round out your trip.
Journey to New York's Queen of American Lakes
See the glory of upstate New York's regal gem, Lake George. You'll find yourself in the heart of the Adirondacks, a state park that covers over six million acres. The water will give you an unforgettable view of the surrounding mountains in all of their fall finery before you come into shore to visit local attractions.
Drop in at Indiana's Lake Monroe
Bennington is based in Indiana and we'd be remiss if we didn't send you to Lake Monroe. Experience the state's largest lake and enjoy your day doing one of the best pastimes a person could have. You can fill your eyes with natural beauty and be a tourist along the way.
Don't Forget Tennessee and Lake Tellico
Head to the southern states where the colors last longer and make Lake Tellico your destination. The Great Smoky Mountains will rise up around you and you can cap off your day on the Tennessee River with a football game in nearby Knoxville, home of the University of Tennessee.
California, Here You Come!
There is nothing like Lake Tahoe for your boating pleasure. Situate yourself on the border of California and Nevada. The Sierra Nevada Mountains will take your breath away as you transport your boat to the shoreline. Extra attractions include the possibility of meteors lighting up the night if you can extend your time on the water until darkness falls. Pack a picnic basket, grab your cozy blankets, and kick back. Your boat is your floating palace. Make every minute count. Your baby will be tucked away in storage soon while you dream of all of your adventures for the new year. If you don't make it to all of these fall treasures, put them at the top of your list for years to come.