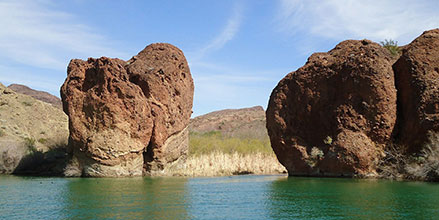 Best Lakes in the Southwest to Take Your Bennington
If you have a Bennington, then you want to be on the water as much as possible. Whether you live in the Southwest or are visiting the region on vacation, there are plenty of lakes for you to enjoy. Take a look at the best lakes in Arizona, Nevada, New Mexico and Utah for boating.


Lake Havasu in Arizona


Each year, thousands visit Lake Havasu, Arizona's top boating spot. Boating is so popular in Lake Havasu City that most of the campgrounds, hotels and RV parks have parking for boat trailers. Some of them even have launch ramps and docks, and there are several other spots to launch or dock your Bennington along the lakeshore. While you are on the water, you can enjoy swimming, tubing, waterboarding and waterskiing. There is plenty of room to maneuver your pontoon, and there are no size restrictions. The sparkling clear water ranges from 75 to 85 degrees Fahrenheit for most of the year, providing the best of Arizona boating.


Lake Mead in Nevada


Lake Mead is one of the most favored water sources for Nevada boating. The water stretches for more than 290 square miles, giving boaters the chance to enjoy the open water and relax in private coves. As you experience Nevada boating, you can enjoy the scenic features of distant mountains and rock formations that are part of the Lake Mead National Recreation Area. There are six launch ramps around the shores of Lake Mead: Boulder Harbor, Callville Bay, Echo Bay, Hemenway Harbor, South Cove and Temple Bar. Boulder Harbor has six lanes, and all of the launch ramps are in excellent condition as of February 2016.


Elephant Butte Lake in New Mexico


Covering 62.5 square miles, Elephant Butte Lake is lined with numerous beaches and offers plenty of water for New Mexico boating. Created with a dam on the Rio Grande in 1916, the lake is 165 feet deep and has an average width of 1.5 miles. This gives you a lot of space for water sports such as tubing, waterboarding and waterskiing. These are all favorite New Mexico boating activities between April and September. The four launch ramps are located at Dam Site, Marina Del Sur, Monticello and Rock Canyon.


Lake Powell


This reservoir offers Utah boating at its finest and is one of the world's top places for water sports such as cliff diving, wakeboarding and waterskiing. Some of the busiest and largest areas along Lake Powell are Halls Creek Bay, Padre Bay, Rock Creek Bay and Warm Creek Bay. You can anchor your Bennington on the water, and use it as a base camp while you explore on jet skis or swim. Floating restrooms are also available on the water when nature calls. The most popular time for Utah boating at Lake Powell is April through October.