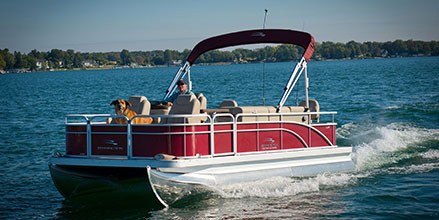 Check Your Checklists for Safe, Fun Boating
Anyone who's gone boating more than once knows how common it is to forget something. The results of an oversight can range from a minor annoyance ("What, no Cheetos?") to a serious inconvenience ("Where's the sun block?") to a life-threatening situation ("We're abandoning ship. One of us will have to skip the life vest").
No airplane pilot takes off without running through a checklist, and no boater should either, because the consequences can be just too serious. Every boater will modify these lists according to their personal needs, but they are a good place to start. Some of them you'll check at home when you're packing for your trip. Others you'll check on the boat before you leave the boat ramp or slip. Copy them into a spreadsheet, or print them out, but please use them.
Safety equipment
Life jacket: one per passenger with whistle attached (minimum two)
Pet PFD
Throwable flotation device with attached line
Visual distress signals
Horn with spare gas canister, or alternate sound device
Fire extinguisher/s
Day shapes
Flashlight
VHF and other electronic communications devices
Navigation gear: charts, compass, GPS
Spare batteries
Binoculars
First Aid kit
Personal medications
Anchor and rope
Dock lines, fenders
Mechanical
Tools
Spares (e.g., light bulbs, belts, fuel filter, through-hull plugs, engine oil)
Tow rope
Keys on float
Boat hook
Knife
Bucket, sponge
Boat and engine owner's manuals
Personal and Convenience
Ship's papers, permits, licenses
Towing service and insurance contact information
Cash, credit cards
Food, beverages, ice
Dishware, utensils, drinks openers, cooking gear
Hats, sunglasses, sun block
Clothing for changing conditions
Swimsuits
Water shoes
Towels
Toilet chemicals, TP
Camera
Toys: towables, fishing tackle, books, etc.
Pre-departure procedures
Know the state's boating laws
Leave a float plan with someone ashore
Check marine and/or weather forecast
Stow all gear
Inform passengers and crew of safety procedures and location of safety equipment
Top off fuel tank
Check fresh water tank
Engine check: fluid levels, belts, outboard engine securely mounted
Check steering, lift mechanisms
Check for fuel odors; run blower
Check bilges
Check that drain plug is in place
Check horn, navigation lights, all electrical and electronics
Check for obstructions