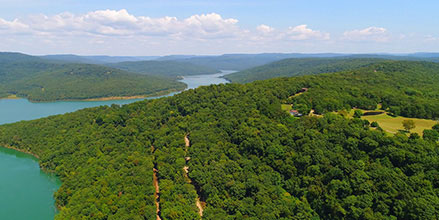 Explore the Ozarks on Beaver Lake on your Pontoon Boat
Not too far away from the Walmart headquarters in Arkansas is Beaver Lake, a jewel of a lake spanning two counties.


Constructed in 1960, this manmade, 28,000-acre reservoir feeds from the White River over Beaver Dam. Limestone bluffs pepper the more than 487 miles of shoreline.


The U.S. Army Corps of Engineers developed 12 parks with 2,008 acres of campgrounds filled with modern conveniences such as paved roads, restrooms and shower facilities, RV hookups, docks and marinas. There are hundreds of places to dock and camp on this majestic lake tucked away in the Ozark Mountains.


If casting a line from the deck of your pontoon boat sounds like heaven to you, Beaver Lake is a dream come true. This lake hosts eight national bass tournaments yearly and features many hybrid bass and other fish including:


Blue Catfish
Bluegill
Channel Catfish
Crappie
Flathead Catfish
Hybrid Striper
Largemouth Bass
Redear Sunfish
Smallmouth Bass
Spotted Bass
Striped Bass
Warmouth
White Bass


When you're not fishing, Beaver Lake offers other sports for fun and relaxation. With depths to 216 feet, you can try scuba diving and swimming, or stay closer to the surface on a stand up paddleboard. Jet skiing, water skiing, kayaking and wakeboarding are also popular water activities.


When you're not on the water, enjoy one of the many scenic trails surrounding the lake. Take a drive into the Ozark Highlands and explore five distinct trout streams winding through the Ozark National Forest. About an hour and a half south of Beaver Lake, at Lake Fort Smith State Park, hikers will find a trail head for the Ozark Highlands Trail, which heads east through a section of the Ozark National Forest.


For a luxury vacation with plenty of down-home tastes thrown in, try booking a stay at the Beaver Lakefront Cabins. Unique to this destination is the indoor heated fishing room where you can catch, clean and cook your meal all from the comfort of a covered dock. You can also dock your pontoon boat right outside your cabin and enjoy a wonderful soak in the hot tub.