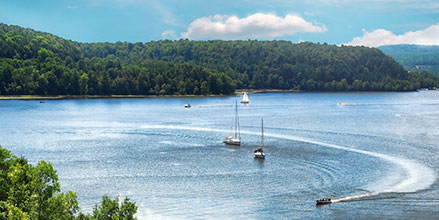 Five Best Vermont Lakes for Pontoon Boating
Vermont is full of treasures for pontoon boaters—historic lakes of all sizes filled with gamefish and panfish, surrounded by tree-clad mountain beauty, and with excellent boaters' services and facilities in easy reach. Here are five of the best lakes for pontoon boating in Vermont. For more ideas, check out this article in Seven Days. Anglers should especially peruse the Vermont Fish and Wildlife Department's boating guide.


Lake Champlain


For many people, pontoon boating in Vermont means Lake Champlain, full stop. The "other Great Lake," Champlain offers surprisingly undeveloped shorelines and islands, along with centuries of intricate history. If you are boating down from the north, don't miss the "neck," where an elegant new bridge joins New York and Vermont. Below the bridge, you'll find historic Chimney Point. On the opposite shore loom the twin ruined fortresses of Crown Point. Horror movie fans may recognize the house in which What Lies Beneath was filmed, just beside the bridge.


Lake Memphremagog


The second-largest lake in Vermont (after Champlain), Memphremagog crosses the international border with Canada. In fact, more of the lake is in Quebec than in Vermont. The gorgeous 25-mile trip from Newport, Vermont, to Magog, Quebec, is not to be missed, so bring your passports. If you aren't interested in roughing it, Newport offers a wide variety of amenities.


Lake Bomoseen


The largest of a complex of lakes near Fairhaven, Bomoseen is an excellent setting for quiet cruising, full of secluded little corners. It is home to the one-time island retreat of author Dorothy Parker and her Jazz Age literary cohorts, the Algonquin Roundtable, depicted in the movie Mrs. Parker and the Vicious Circle. A more recent innovation is an ice-cream-shop-on-a-boat, which makes the rounds of Bomoseen in summer months. Ask locals where you have the best chance of finding it: getting ice cream in the middle of a lake on a hot summer day is paradise.


Lake Willoughby


Lake Willoughby is a classic glacial lake, rather unusual in Vermont. It is very deep—320 feet in places—and cold. On the southern end of the lake, the slopes of Mt. Hor and Mt. Pisgah drop down precipitously, giving the lake an appearance that is often compared to a fjord. This is almost unique in New England, and Lake Willoughby is often listed as one of the most beautiful lakes in the region for that reason. Pontoon boating on Willoughby is a wondrous experience during foliage season—think mid-October—but come prepared for serious cold.


Harriman Reservoir


The Harriman reservoir in southern Vermont is easily accessed from Boston. It is a beautiful lake at any time of year, largely inside the unspoiled Green Mountain National Forest. Many tiny islands are covered with wild blueberries and are free from bears since the dam was built in 1923. So in the summer, you can eat yourself silly while boating from isle to isle in the wilderness.


Check out the latest Bennington pontoon boats, then find a Bennington dealer in Vermont or wherever you live.