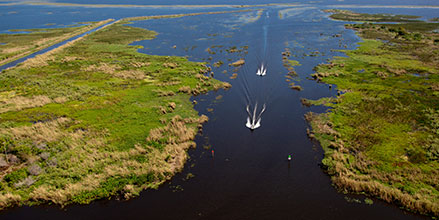 Five Excellent Lakes to Visit in the Southeast
The only thing better than owning a Bennington boat is finding the very best lakes to enjoy it in. As a proud boat owner, you no doubt spend much of your free time looking for new places to run your boat while spending time with your friends and family. To make your search a little easier, here are a few of the best lakes for you and your Bennington to make some great waves together in the southeastern United States.
Florida Boating
1. Lake Okeechobee
With well over 700 square miles of boating-friendly waters in America's seventh-largest freshwater lake, you'll definitely have plenty of room for cruising among some truly incredible scenery. Embark upon your own alligator-spotting adventure, or cast a line to try your luck with the area's popular large-mouth bass population. You'll have the best chances of pulling out the biggest bass that you have ever seen at this excellent Florida boating destination.
2. Lake Dora
Old Florida is always a lovely destination, and you're sure to enjoy the beauty of this lake in picturesque Mount Dora. Nature and wildlife enthusiasts won't want to miss the part of the lake known as the Dora Canal, which is often referred to as the most beautiful mile of water in the world. You'll enjoy stunning views along the canal that is lined with towering cypress trees and teeming with wildlife. Expect to see nesting ospreys, herons and egrets, otters and alligators.
Georgia Boating
3. Lake Blue Ridge
Excellent Georgia boating can be found in the crystal-clear waters of this 3,290-acre lake that is beautifully surrounded by North Georgia's rolling mountains. Located in the Chattahoochee National Forest, you can expect to see plenty of lovely views and lots of local wildlife as you cruise about. Enjoy fishing for trout, or you may enjoy jumping in for a swim on warm days.
4. Lake Lanier
Nestled in the foothills of the Georgia Blue Ridge Mountains, the scenic beauty of this 38,000-acre lake summons millions of visitors each year. Boating is a popular activity on the lake for those who simply want to enjoy the fabulous scenery, and fishing enthusiasts can expect to have fresh bass for dinner.
Louisiana Boating
5. Lake Claiborne
Those interested in Louisiana boating should head over to this 6,400-acre lake that is often referred to as Louisiana's best-kept secret. Both the pure water and the gorgeous scenery make it a lovely spot to take your boat, and those who enjoy fishing will encounter catfish, bluegill and walleye.