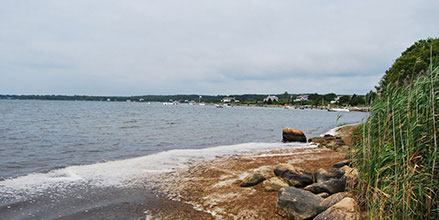 Five Great Locations for Pontoon Boating in Rhode Island
Don't let its status as the smallest state put you off. Rhode Island is a boater's paradise, with a fantastic variety of freshwater ponds, salt ponds, and Narragansett Bay offering opportunities for pontoon boaters and lovers of history, fishing, outdoor recreation, fine dining, night life and more. Here are some of the top places to get your Benny wet this summer in The Ocean State:


Narragansett Bay
Narragansett Bay is the largest estuary in New England, covering 147 square miles and containing more than 30 islands. Fed by three rivers, the Taunton, Providence, and Sakonnet, the bay is considered a ria, or a drowned river valley that is still open to the sea. You can spend weeks exploring the waters, islands, and the historic cities and towns of Newport, Middletown and Portsmouth (all on Aquidneck Island), Jamestown (on Conanicut Island), Providence, Bristol, and North Kingstown, (all of which are in Rhode Island) and Fall River, in Massachusetts. European settlement dates back to the early 16th century, and several of the nation's oldest homes and public buildings are open for viewing. The Providence River is home to the famous WaterFire installation, during which dozens of wood-burning braziers set in the middle of the river create a magical atmosphere on selected summer nights. There are also endless choices of fine restaurants, marinas, boat ramps, museums, night clubs, swimming beaches, protected nature areas, and golf courses, making Narragansett Bay one of the finest boating destinations on the East Coast.


Ninigret Pond
Located in Charlestown, this 1,711-acre salt pond borders Ninigret National Wildlife Refuge. With 858 acres of diverse habitats including rare coastal shrublands, wooded swamps, freshwater ponds and more, it's a haven for bird watchers and other nature lovers. Two fine swimming beaches, East Beach and Charlestown Town Beach, are on the barrier beach that encloses the pond and separates it from the ocean. Federally-endangered piping plovers nest here, so keep a careful eye out for their well-camouflaged nests, which look like just another bunch of small rocks. There is a breachway connecting the pond to Block Island Sound, but of course you should take careful note of the tide and weather and exercise caution whenever bringing a pontoon boat on open waters.


Quononchontaug Pond
Just west of Ninigret Pond and spanning the border between Charlestown and Westerly is Quononchontaug Pond, the deepest salt pond in Rhode Island. Like Ninigret, "Quonnie" Pond is separated from the ocean by a narrow barrier beach, with a breachway that allows boaters to go "outside." There's a certain amount of big-boat traffic, not all of it polite, so be prepared to handle the occasional excessive wake. You will, however, be rewarded with excellent birding. Watch for snowy egrets, mergansers, great blue herons, several gull and tern species, and more of the endangered piping plovers, along with other shorebirds. The protected tidal waters, most only 6-8 feet deep, serve as a fish nursery, drawing in larger predatory fish like bluefish and striped bass through the breachway twice a day. Needless to say, it's a popular spot for fishing. The village of Quononchontaug was famously mentioned several times in the TV series The X-Files and is home to the Babcock House, or "Whistling Chimney," a historical building on Main Street built in the early 18th century.


Wallum Lake
Wallum Lake is a 322-acre body of water shared equally by Rhode Island and Massachusetts. The adjacent Douglas State Forest, which also spans both states, provides good access with two paved boat ramps, one at the northern and one at the southern end. With almost 6,000 acres under management, the day-use-only state forest provides good opportunities for hiking, fishing, and birding (watch for bald eagles, osprey, and herons). A boardwalk leads through a rare example of Atlantic white cedar swampland. There are public restrooms and picnic areas in the state forest, making Wallum a fine location for a day of family-friendly boating.


Worden Pond
Worden Pond in South Kingstown is the state's largest natural freshwater pond, covering 1,043 acres. It is named for the Worden family, whose ownership of the surrounding land dates to 1695. Sited between the Chipuxet and Pawcatuck Rivers, the lake's shallow water promotes weed growth, which provides an ideal environment for pan fishing. There's a boat ramp and a swimming beach, and it's a nice, usually quiet place to go paddle boarding and birdwatching.


Interested in going pontoon boating in Rhode Island? Check out Bennington's newest models and features and find a Bennington dealer near you today.