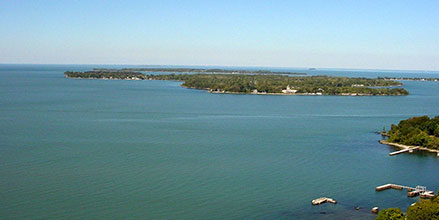 Five Great Places in Ohio to go Pontoon Boating
Ohio offers a tremendous variety of excellent locations for pontoon boating, ranging from small quiet lakes, to a "great" big lake, to one of the country's major rivers. The people are famously friendly and boating facilities are widespread. Any boater would be hard pressed to find a better vacation spot than the Buckeye State.


Lake Erie


Lake Erie is the shallowest and warmest of the Great Lakes, making it perhaps the best of the five for swimming. Warmer water also creates a perfect environment for anglers targeting bass, perch, alewife, walleye, carp, and pike. Hundreds of miles of coastline offer variety ranging from remote, secluded spots for birdwatching and fishing to big-city amenities and excitement in Toledo and Sandusky, where you might take in the city's famous roller coasters. Ohio maintains numerous state parks on Erie, including Maumee Bay State Park, Cedar Point National Wildlife Refuge, and Metzger Marsh. These state parks offer numerous opportunities for camping, swimming, and hiking, and several have launch ramps. Put-In Bay, between Sandusky and Cleveland, is a popular spot for watersports, and Vermillion offers a host of boating amenities.


Grand Lake St. Marys


At more than 13,500 acres, Grand Lake St. Marys is the largest lake entirely within Ohio. It's extremely shallow, with an average depth of less than 7 feet. Grand Lake Saint Marys State Park, 23 miles from Lima, offers fishing (for crappie, bass, yellow perch and bluegill), picnicking, hundreds of campsites, and several swimming beaches, including some beaches especially for boaters. A 300-foot-wide no-wake zone is in effect around the lake's entire 52-mile shoreline, but once you're away from shore, you'll find it a popular site for skiing and tubing.


Tappan Lake


Tappan Lake State Park, between Cadiz and Uhrichsville, contains 5,000 acres of land and 2,350 acres of excellent lake boating, plus campsites, a swimming beach and playground, walking trails, cabin rentals—and free Wi-Fi. There are two public boat ramps outside the park and one in it, and a full-service marina in the town of Scio that offers docking, cabin rentals, a full-service restaurant, fishing licenses and other boaters' services. The lake has an engine limit of 399 horsepower.


Alum Creek Reservoir


Created in the 1970s, 4,600-acre Alum Creek Reservoir is just north of Columbus in Alum Creek State Park. It's open year round, has five boat ramps, no horsepower limit, and excellent fishing for crappie, sunfish, bluegills, catfish, walleye, muskies, and largemouth and smallmouth bass. A 3,000-foot-long swimming beach (the longest in the state) features volleyball and a beach house. Almost 40 miles of hiking trails offer good bird watching and hunting opportunities. The park also contains the historic remains of a settlement of freed slaves who moved to Ohio from North Carolina.


Ohio River


With launch sites located every 20 miles or so, you can easily plan plenty of one-way or round trips that run anywhere from a few hours to several days on the Ohio River. At Ohio's southwestern corner, Cincinnati offers big-city entertainment and waterfront amenities including docking, marinas, and restaurants. Of course, you can head upriver toward Pennsylvania or downstream toward Louisville, but lengthy trips will encounter numerous locks and you'll be sharing the water with tug/barge combinations and pretty sizeable commercial vessels.


This just scratches the surface of hundreds of great sites for boating in Ohio. Whether you live there or you're planning a trailer-boating vacation, doing it on a Bennington pontoon boat is a great way to go. Click here to find a Bennington dealer near you.