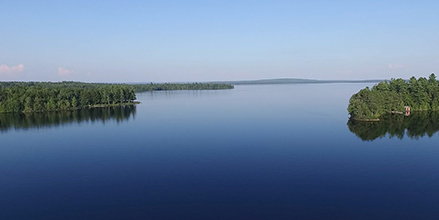 Five Great Places to go Boating in Eastern Canada
There are more than a million lakes in Eastern Canada. While that makes it impossible to compile a list of "best" lakes, it does make it a piece of cake to find some great ones. Bennington owners who live in Canada and plenty of American owners who have visited there with their Bennies have recommended these five to us as simply wonderful places to get the pontoons wet.


Grand Lake, Newfoundland


The present Grand Lake was created by the damming of the Humber River, taking what was a much smaller body of water and creating the largest lake in Newfoundland, with an area of 534 square kilometers. It's immensely deep – nearly 1,000 feet in places! There are few towns or cities, and most habitation along the shore consists of sporting camps and other facilities for outdoor recreation. Fishing, as you'd expect, is superb, and there are also great opportunities for hunting. The small city of Corner Brook serves as a business and cultural center, and has a number of museums, exhibits and tour operators.


Bras d'Or Lake, Nova Scotia


Bras d'Or Lake or Ten Mile Lake in the middle of Cape Breton Island, is an inland sea. Connected by several channels to the Atlantic Ocean, it's also fed by several rivers, making the water partly salt and partly fresh. Covering more than 1,000 square kilometers, it's surrounded by high hills that protect it to a great extent from Atlantic storms. There are active lobster and oyster fisheries in the lake, but it's renowned worldwide as a summer vacation destination. Boaters are served by several marinas, boat ramps and waterfront restaurants, and there are innumerable protected coves that make excellent places to stop and have picnic and a swim.


Grand Lake, New Brunswick


Five kilometers wide and 20 kilometers long, Grand Lake is New Brunswick's largest – so big that it acts as a heat sink and keeps its valley warmer than the surrounding country, extending fall boating by several weeks. The lake is famous for phenomenal trout fishing, and there are numerous campgrounds on and around it. Grand Lake Provincial Park offers camping and other land and water based opportunities for recreation. The valley is fairly well developed, and the lumber industry is a major presence, but there is no shortage of beautiful scenery and opportunities for dining, tennis, golf, and shopping.


Lake of the Woods, Ontario


Partly in Ontario but also extending into Manitoba and Minnesota, Lake of the Woods is a popular destination for anglers from both the US and Canada. Walleye and northern pike are abundant, and there are good numbers of large and smallmouth bass, muskies, perch, sturgeon and more. There is little development on its shores, but with more than 14,000 islands and 65,000 miles of shoreline, it's very popular for recreation. There are innumerable hunting and fishing camps and rentable cabins ranging from rustic to luxurious.


Lake Huron, Ontario


One of the Great Lakes, Huron is the third largest freshwater lake in the world. Shared by Ontario and Michigan, it's part of the Great Lakes Waterway and a highway for large oceangoing ships, which boaters must treat with extreme respect. But its bays, coves and islands offer the full variety of boating experiences, from fishing, swimming and camping to big-city high life. Don't plan to visit all of Lake Huron in a pontoon, for it's too vast. Don't plan to cross it either, except with careful planning and excellent seamanship skills, for you'll be out of sight of land and subject to potentially sea-like conditions.