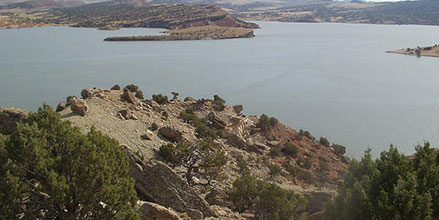 Top 5 Best Lakes in Wyoming for Boating
Wyoming is a wonderful place for family vacations. With its gorgeous landscape, wide-open spaces, and multitude of lakes and campgrounds, Wyoming offers something for every adventurous traveler. If you have a pontoon boat and want to find the best places to take it out, you can do no better than the Cowboy State. Here are the five best lakes in Wyoming.


Lakes in W

y

oming for

B

oating
1. Lake Hattie




With 3,000 surface acres of water, Lake Hattie is right outside the city of Laramie and is the biggest lake in the Laramie Plains. It's stocked by the state, making it a great place for fishing off your pontoon boat. Most trout range from 5 pounds to 15 pounds. There are a few boat ramps and basic campsites on Bureau of Land Management (BLM) land, but they're pretty basic—i.e., no fresh water or electrical hookups. So be prepared for a rustic camping experience, or stay in nearby Laramie for a plusher visit.


2. Alcova Lake




Looking for a recreational area near Casper? Alcova Lake is it, with eight boat ramps and six campgrounds, plus lakeside restaurants and other services. In addition to boating, this is also an ideal location for sailing, water skiing, swimming, climbing, and cliff-diving. Take the boat through Fremont Canyon to the Pathfinder Reservoir for a great geological adventure.


3. Curt Gowdy State Park




Halfway between Cheyenne and Laramie, Curt Gowdy State Park is set amidst the Laramie Mountains. The terrain is rolling hills and granite outcroppings with over 1,000 feet in elevation change throughout the park, along with three reservoirs: Granite, Crystal and North Crow. Granite Lake is your best bet for boating, and you'll also find great fishing there for rainbow trout and kokanee salmon. Crystal has a 15-horsepower limit but offers good shoreline fishing. The park has a limited number of campsites that can be reserved, excellent opportunities for viewing wildlife, and miles of trails to explore by foot or horse.


4. Fremont Lake




This is the second largest natural lake in Wyoming and one of America's deepest, at over 600 feet. Fremont Lake is located in Wind River Mountains near Pinedale, and it's popular for sailing, skiing, camping, and fishing as well as pontoon boating.


5. Guernsey Reservoir




With 27 miles of shoreline and seven camping areas, the Guernsey Reservoir gives the pontoon boater plenty of options. There are three boat ramps and 10 miles of walking and biking trails. A fine option for fishing, swimming, and sight-seeing.


When you're ready to take your pontoon boat on a long trip, you can do no better than the beautiful lakes of Wyoming. Ready to do it in a new Bennington? Visit our website.