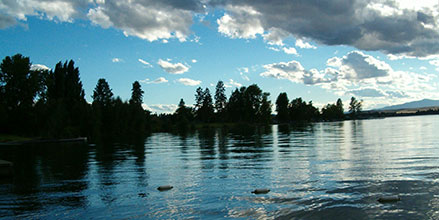 Five Wonderful Lakes to Visit in America's Northwest Region
Boating is always a wonderful family activity, and you'll find some amazing lakes to explore in your Bennington when you head over to the northwest region of our great country. Below are just a few of the many excellent lakes you'll want to check out.
Washington Boating
Lake Chelan: While narrow, this beautiful lake is the largest natural lake in the state with over 50 miles of boating waterways, and it's the third deepest lake in the entire country. You'll enjoy a cruise surrounded by mountains and recreational lands with an abundance of wildlife, and the swimming is fine in warm weather. This Washington boating experience is nothing short of a fishing paradise, and you can expect to catch a variety of fish that include several types of trout, sucker, salmon, whitefish and shiner. Come try and beat the current state record of a 35-pound trout caught in 2013.
Montana Boating
Flathead Lake: You should plan to spend the day exploring this natural freshwater lake that takes you on a 27.3-mile journey along the shores of tribal lands and among a dozen small islands. Considered one of the country's cleanest lakes, it's popular for water skiing, swimming and fishing. For a special Montana boating adventure, you can plan to hunt for the Flathead Lake Monster, which is rumored to resemble the Loch Ness Monster.
Wyoming Boating
Yellowstone Lake: Located in popular Yellowstone National Park, this is the largest mountain lake in America. You'll find 20 miles of gorgeous boating waters, and you can expect to see geysers, hot springs and fumaroles on both sides of the lake as you cruise. You may also boat right up to Stevenson Island during this Wyoming boating trip.
Idaho Boating
Lake Coeur d'Alene: Left behind by the glaciers of the Ice Age, you'll enjoy a special day of Idaho boating in this stunning lake. Expect incredible sunsets and moonrises and plenty of ospreys, with wingspans up to six feet, making a plunge for their fish dinner. You can even boat right up to the famous Cedars Floating Restaurant for a nice meal, and you'll see the world's first floating, movable green, which serves as the 14th hole of the Coeur d'Alene Resort Golf Course.
Oregon Boating
Wallowa Lake: Surrounded by the Wallowa Mountains, you'll experience a wonderful day of Oregon boating on these crystal-clear, deep blue waters. Wildlife is plentiful, and you might see entire herds of mule deer drinking from the lake. Other wildlife includes mountain goats, mink, fox, river otters, coyotes, cougar, black bears and wolves.
Exploration Awaits
These are just a small sampling of the many wonderful boating lakes you'll find throughout America's northwest region. Pack up the family, and you'll soon be making wonderful new discoveries from the comfort of your Bennington.
Sources: