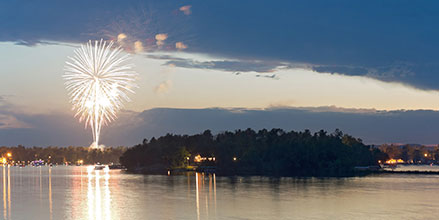 Pontoon-Boater's Guide to Watching Fireworks
Independence Day fireworks can be an inspiring spectacle when viewed from the water. Many fireworks shows are planned on lakes around the country, and the open expanse of water provides superior unobstructed viewing that's possible in almost no other setting.
Watching the show from the deck of a pontoon can be the best of the best, for no other kind of boat offers the same stability, space, freedom of movement, general comfort, and 360-degree sight lines.


But before you head out into the dusk on the evening of the Fourth, it pays to be prepared. Here are some tips for watching fireworks on the lake from the comfort of your Bennington pontoon boat.


Location. The local newspaper or local news websites will list where the show will be, but the the description will probably be written for the benefit of those watching from a nearby park or other shoreside location. The local fire department will be able to give you the best, most accurate information about the exact site the fireworks will launch from, the direction of firing, and any exclusion areas. Then look at your charts and determine where you'll be able view them from a good angle in an area that allows secure anchoring.


Front or back? Getting as close as possible to the fireworks for the best view is tempting, but it's not without drawbacks. There will likely be a lot of competition from other boats for these viewing locations, so you'll have to get there early – long before sunset. You'll also have to stay longer at the end of the show to allow the boats anchored behind you to leave. If you don't have the patience to wait, or if you'll have young children aboard, anchoring toward the rear for an early, easy exit makes sense.


Boat prep. If you have a portable toilet on board, empty it before the cruise and add fresh chemicals. Check all Coast Guard-required safety equipment and make sure it's in working order. That includes running and anchoring lights, flares, and life jackets for everyone on board. Check the condition of your ground tackle. If you're not accustomed to anchoring, try it in daylight a few times before the big night to gain some experience. You'll be anchoring in close quarters with many other boats, and you want to do it competently and securely.


Pack wisely. You'll probably be out several hours, so pack a picnic dinner and plenty of beverages. Go easy on the alcohol: you'll be boating in the dark on a busy night, and you must remain sober. Everyone should have something warm to pull on if the weather gets cool. Depending on your location, bug dope might be needed too.


Stay safe and have fun watching the fireworks from the deck of your Bennington pontoon boat.