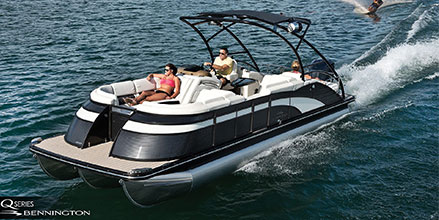 Safety Checklist for a Day of Pontoon Boating
Pontoon boating is unquestionably fun, and when done carefully and responsibly, it's also safe. That "carefully and responsibly" part, however, gives rise to a lot of questions and causes some problems. This is especially true for people who "don't know what they don't know," which includes many new boat owners, people who are unfamiliar with boating, and those who didn't have the best boating education when they got started. So let's review some of the major topics to ensure everyone's safety and enjoyment next time you go out on the lake or river.
Check weather conditions
Always check the local forecast before you head out. Because weather conditions can change rapidly, keep a weather radio turned on or keep your VHF tuned to the right channel, and keep an eye on the horizon all around you. Fast-moving storms may outstrip even the latest weather report, but if you see storm clouds moving in, it's time to run for cover.
Complete a boating checklist
The US Coast Guard recommends that you conduct a pre-departure checklist every time you go out. This includes making sure that certain safety items are aboard (including a suitably sized life jacket for each person on board, an anchor and rode, mechanical spares, and a fire extinguisher), that you have adequate fuel and water, and that major systems are working properly. You should also have the necessary paperwork, including radio and fishing licenses and an operator license and registration papers as required by the state.
Safety on the water
Instruct passengers to keep their arms and legs inside the boat when it's running. Everyone should be alert for objects, persons and other boats in the water and keep away from them. Movement around the boat should be limited when it is in motion. Don't be hesitant about requiring everyone to wear personal flotation devices when conditions warrant it.
It's wise to designate an assistant skipper if something should happen to the driver. Avoid alcohol while on the water, as the risk of an accident nearly doubles when alcohol is involved.
Special precautions for kids and pets
Double-check that each child and pet has an appropriately sized life jacket. Fasten it yourself to ensure that it's worn correctly. Provide a shaded area for kids and pets to take a break from the sun and plenty of fresh drinking water. (Adults need protection from the sun too.)
File a float plan
Let someone on land know where you're going, what you'll be doing, and how long you plan to be gone. They should have your vehicle and boat details written down so they can communicate them to authorities should you not return or check in on time.
Boating education and maintenance
Take a safe boating course offered by the US Coast Guard Auxiliary, the US Power Squadron, the National Safe Boating Council or another organization. Check with your dealer regarding ongoing maintenance of your vessel so you can enjoy it safely for years to come.
Boating is one of life's greatest pleasures that you can share with all of your family and friends. Please do it safely.