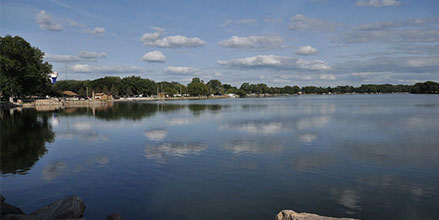 Top 5 Iowa Lakes for Pontoon Boating
There is no better place to spend a quintessential American summer than on a lake in Iowa, where the waters are as wide open as the hearts of its people. Here are five lakes in Iowa made for great pontoon boating day trips or longer vacations.


Lake Okoboji
This is the state's premier vacation and boating destination, and it's vast, covering 15,000 acres. This pair of lakes (West and East Okoboji) is part of the chain of Iowa Great Lakes, and it's a great place for all kinds of family adventures. There are museums, watersports, and live music acts every night of the summer. Arnolds Park is a popular amusement park boasting classic rides including a vintage wooden roller coaster, a family-friendly Ferris wheel, and a swift log flume for those scorching summer days.


Storm Lake
Want to fish for walleye? Storm Lake is the richest fishing ground for this freshwater treasure. It's the fourth largest glacial lake in Iowa, conveniently located in a university town. There is a wealth of cultural and wilderness activities in this affluent vacation village, pleasant parks, hiking and biking trails, and campgrounds. King's Pointe Waterpark Resort is an indoor/outdoor aquatic playground with a fast slide and a lazy river, and is a great family destination.


Lake Sugema
Do you prefer a vacation away from it all? Lake Sugema, in Van Buren County, is a serene, tree-surrounded retreat. Quiet the motor of your Benny and let your cares drift away with the cumulus clouds. The fishing is good, so pack your poles.


Blackhawk Lake
Imagine watching a magnificent display of Fourth of July fireworks from the deck of your Bennington pontoon boat on Blackhawk Lake in the town of Lake View. It's small and very popular, so expect a fun, sociable gathering of boaters. There are two lovely swimming beaches: Crescent Beach and 30 Acres Campground are both great spots for lounging on the sand.


Big Spirit Lake
Spirit Lake, in Dickinson County on the Iowa-Minnesota border, has all the lakeside amenities you could ask for. Restaurants and trails make it a good family destination. Fish for bass, pike, and muskies. Gull Point State Park has a campground that can be a great home base for a stay of several days. Legend has it that this body of water is inhabited by an evil spirit, which almost makes us like it even more.


A Bennington pontoon boat is the best way to spend your Iowa adventure. Find the dealer near you and discover the boat where summer memories are made.