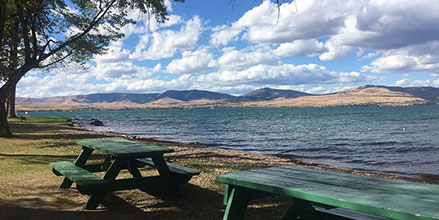 Top 5 Lakes for Pontoon Boating in Montana
Montana is known as Big Sky Country for a reason. From the horizon stretching plains and hills of Yellowstone to the snow-covered rocky peaks of Glacier National Park, Montana is one of the last remaining vestiges of America's western frontier. Montana attracts adventurers looking to grab a saddle and explore ranch life, but if it's the boating life you seek, Montana has that, too.
Here are our picks for the top five best pontooning lakes in Montana:
1. Flathead Lake
Known for being the largest fresh water lake west of the Mississippi, Flathead Lake encompasses more than 200 square miles of water and 185 miles of shoreline. Located in northwest Montana, just 7 miles from Kalispell, Flathead Lake makes for a perfect boating excursion near the gateway to Glacier National Park.
2. Medicine Lake
Located across the state in the far northeast reaches of Montana, lies Medicine Lake. The lake is home to the Medicine Lake National Wildlife Refuge, which protects migrating waterfowl including great blue herons, white pelicans and sandhill cranes.
3. Hebgen Lake
Positioned near West Yellowstone, less than 2 miles from the border with Wyoming, Hebgen Lake is approximately 15 miles long and 4 miles wide. While being entirely man-made, the destination is known as the premier stillwater fishing lake in Montana.
4. Canyon Ferry Lake
Formed by the Missouri River and the Canyon Ferry Dam, Canyon Ferry Lake is Montana's third largest body of water at over 35,000 acres and 76 miles of shoreline. Formed in 1954 to harness electricity and water for irrigation, the lakes sits over the top of the former town of Canton. Due to its location near the Rocky Mountains, the lake and surrounding area have become a popular outdoor destination for boating, fishing and wildlife viewing.
5. Ennis Lake
A popular fly-fishing destination, Ennis Lake provides an outdoor boating escape just a short drive from Bozeman. With much of the lake proving to be shallow, less than 8 feet deep, pontoon boaters will enjoy cruising or trolling.
Now that you're ready for a pontoon boating adventure in Montana, the only thing left to do is to find your next Bennington Pontoon Boat at a dealer near you. Start designing your dream Bennington Pontoon Boat today with our online 3D design center, here you can customize every feature for the perfect Montana pontoon boating experience.