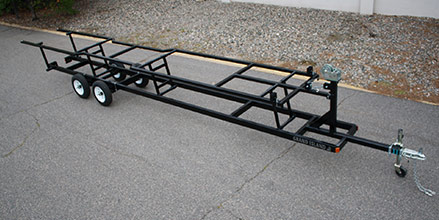 Choosing the Right Pontoon Boat Trailer
If you plan on travelling with your pontoon boat as opposed to keeping it at one single body of water, you'll need to look into purchasing a trailer to tow your boat around. When it comes to picking out a proper trailer for your specific boat it is always important to speak to the person or dealer that you purchased the boat from. They are going to make sure that you are equipped with exactly what you're looking for.
However, if you're looking to brush up on your knowledge before walking into the dealer, here are some tips for finding the right trailer for your boat.

Scissor or up/down pontoon trailers
This style of trailer slides in between the pontoon boat tubes or logs, making it the quickest and easiest style to use when retrieving a boat from even the shallowest waters. While the ease of use when pulling or launching your boat is nice, these trailers may rock when used to pull a boat on the highway as the logs rest over the sides of the trailer. Consider your travel plans and the size of your boat.
Bunk style trailers
Bunk style trailers, unlike the scissor style, slide under the entire boat. The logs are supported by resting directly on the surface of the trailer, above the wheels. This style of trailer requires additional maneuvering when retrieving or launching your boat, but may be more suitable for longer drives.
In addition to the practical use of your pontoon boat trailer, you should take into consideration storage of your trailer when the boat is in the water and when the boat is loaded on the trailer. Bunk style trailers are wider than scissor style, taking up more space. Also, as boats rest on the surface of the bunk style trailer, you will need more vertical space for storing with the boat on the trailer.
To learn more about finding the proper trailer for your Bennington Pontoon Boat model, contact a local Bennington Pontoon Boat dealer