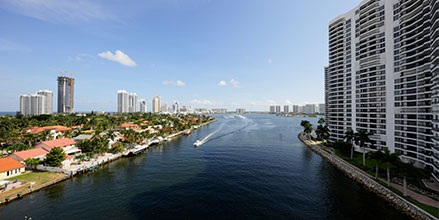 5 Great December Boating Destinations
Winter is officially here, but that doesn't mean you must part ways with your boat and the open water for the next several months. In fact, there are several tropical and subtropical destination spots located right here in the United States that boaters have been known to flock to during the cold weeks of December.


You can, too, but before you set off on your winter wonderland journey, take a few minutes to verify with your boat insurance company that you have proper coverage in case your Bennington pontoon experiences any damage during transport. It may also be a good idea to check that your boater's insurance policy does not contain any winter lay-up periods, which could result in a lack of coverage during a set time throughout the winter months.


Check out the list below of popular December boating destinations in the United States:


Riverside County, California


Home to Palm Springs, Palm Desert, and Rancho Mirage in part of "Inland Empire," Riverside County, Calif., is a popular December boating destination. Contributing to the area's popularity are warm winter days reaching the high 70s and low 80s, amazing mountain views, and the option of 46 lakes to choose from. Travelers can put their vessels into the water in Winchester at the Lake Skinner Recreational Center, which is stocked with trout year-round, or venture to Diamond Valley Lake, which is one of southern California's largest reservoirs and offers amazing mountain views from its shores.


Miami, Florida


Considering December days in Miami reach an average of mid to upper 70s, it should be no surprise the city is so popular among boaters during the winter months.


Key West, Florida


Even warmer than Miami, Key West is the only city within the continental United States that never experiences frost. Also, there is relatively little to no chance of a hurricane or tropical storm developing during this time. For these obvious reasons, Key West, Florida, is one of the ultimate winter boating destinations.


Arizona


Both the cities of Phoenix and Yuma see a heavy flow of winter boaters. Phoenix, which is the state's largest city, sees winter days reaching mid 70s with lows dropping to mid 40s. For those who prefer a warmer setting, Yuma typically boasts winter highs ranging from mid 60s and high 70s and is considered the sunniest place in the world (sunny days make up 94 percent of the year). Here, boaters can enjoy many aquatic activities along the beautiful Colorado River while absorbing some vitamin D.


San Diego, California


Last but certainly not least on the list is San Diego, where travelers should expect average high temperatures of about 66 degrees and lows in the mid to low 50s. The city is known for offering one of the world's most favored climates, and provides boaters with plenty of boating activities to keep them entertained during their journey.