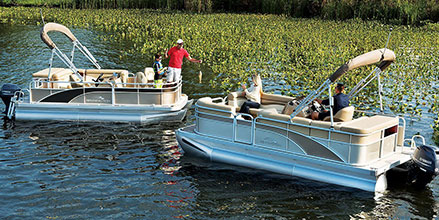 Five Great Ways to Get Young Children Excited About Fishing
A day of boating is fun for everyone, and you can plan to enjoy a perfect day of family bonding when you head out for some lake fishing in your Bennington. Even your young children will get excited about a day of fishing when you utilize these few helpful tips.
1. Choose a Plentiful Fishing Hole
Young children can become bored quickly with this sport if they don't get a nibble, so you should be sure to pick a spot where the fish are almost certain to jump on the hook. Your children will get excited about this new adventure as soon as they see their bobber go under the water or pull in that very first fish. Even catching a tiny perch or sunfish as small as the bait will make them feel happy and successful.
2. Try Some Fun Contests
Bring along a chalkboard and keep track of every fish caught. Let the children know that there will be a prize for the one who brings in the most fish. You may also want to have prizes for things like the biggest and smallest fish caught and best sportsmanship. At the end of the day, each child should win something. Choose simple prizes such as being in charge of picking the next family movie, choosing a special dessert or stopping for ice-cream on the way home.
3. Allow Your Children to Help Prepare Your Fish Dinner
If your outing is successful, then you may want to fry those fish up for dinner. It's the perfect time to involve your children in the cooking process. Even very small children can hand you salt and pepper, and they will be extremely proud to have helped catch and prepare the family meal.
4. Provide Your Children With Proper Equipment
You already know what you'll need for your trip, but you can get your young children excited by allowing them to pick out their own pole. You'll find a wide selection of gear manufactured for children, and they're sure to find a good, lightweight pole that is easy for their little hands to hold and features their favorite cartoon character or super hero.
5. Explain Everything
Young children have an incredible ability to learn, so you can teach them everything about the world of fish as you enjoy the sport. Explain to them what kind of fish they caught, how big it might grow and what it likes to eat. Be ready to answer questions about how it breathes under water and how big its family is.
Introduce Your Little Ones to This Great Sport Today
These are all excellent ways to get your young children excited about lake fishing, and you'll all enjoy this time with your family in a fun atmosphere. Load your family up in the Bennington today, and you're sure to have a great time together reeling in those fish.
Sources: