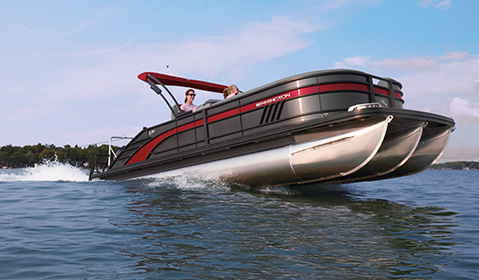 What's New For Bennington Model Year 2022
Here are just a few of the highlights of what's new and coming to a Bennington dealer near you. Follow us on social media or check back for even more updates in the coming months.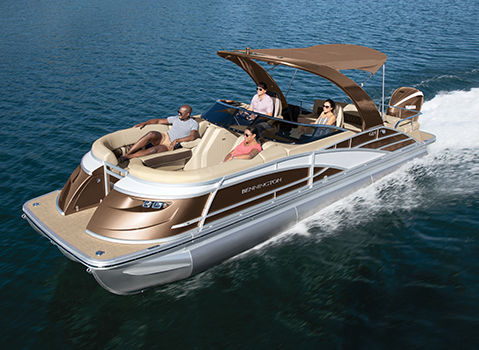 The unmistakable silhouette of the Q line gets even better with an all-new sleek exterior featuring intergraded docking and navigation lights.
Standard-Beam Twin Engine Models
The wait is over. Bennington's legendary twin-engine performance is now available in several new
2.6 m wide models within the R, RX, Q, & QX Lines. ESP comes standard with all standard-beam twin-engine floorplans.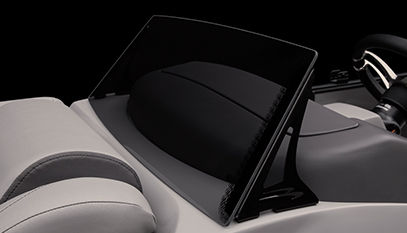 The optional custom-designed glass windscreen adds even more comfort and style to your LX.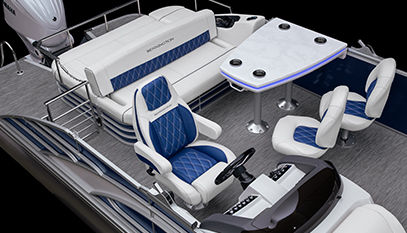 Swingback Dinette Configuration
Our popular dinette option is now available on several Swingback models. You can have it all with a comfortable space for socializing at the dinette and still be able to relax on the Swingback lounger.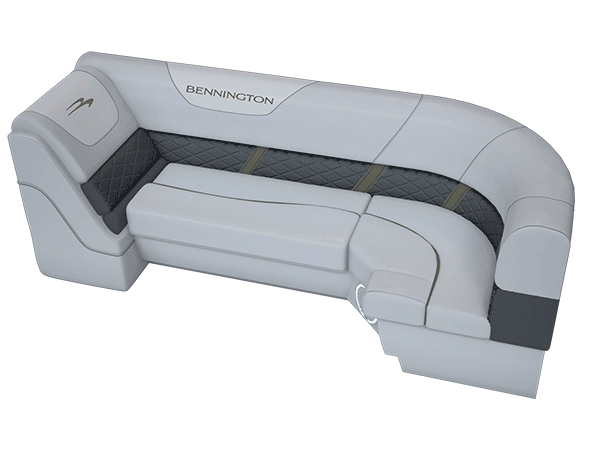 For 2022, the SX Pillowtop furniture option has thicker foam and an all-new design. Choose from a variety of coordinating colors to add to the lumbar straps, piping, and embroidery to add the perfect amount of flair to your Bennington.
Loading or unloading for your day on the water is even easier with the all-new Bennington Gate Glide smoothly opening and holding the gate. Included as standard equipment on the port gate on the L, R, & Q Series, optional on the S series.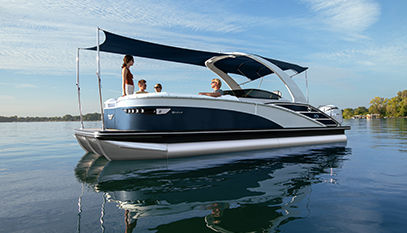 This easy-up, easy-down stowable sun shade is a great way to get a little reprieve from the sun while enjoying your day on the water. Available on all arch and TopDeck models, the black stowable sunshade is also retrofittable should you want to add it to your current Bennington.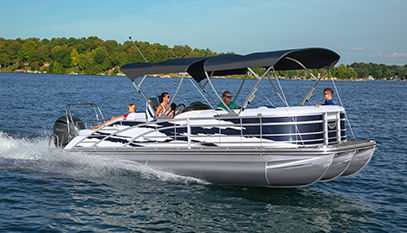 Dual Electric Power Bimini
Tired of Velcro and zippers to deploy your bimini? These dual electric power biminis operate independently, each with its own switch for easy access to shade. Cable stays and trailering struts come standard on select models in our SX-RX Sport lines.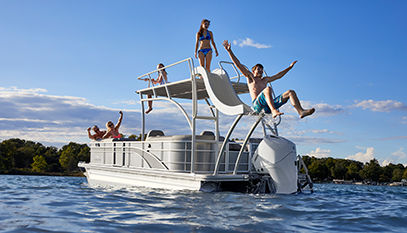 Your day on the water just got better! No one can resist a waterslide, not to mention the additional space and shade the top deck provides. A wide stable foot print provides stability, and easy access to the Top deck is available on select SX and L models.
Updated lines on the R - QX Fastback pods include black mesh and a stainless steel bevel detail that highlights well with the RGB lighting.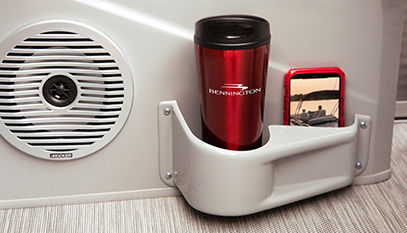 Keep your beverage handy at the helm and stow your phone out of the sun with the console pocket. Color matched to your interior color and available on all consoles with a binnacle arm.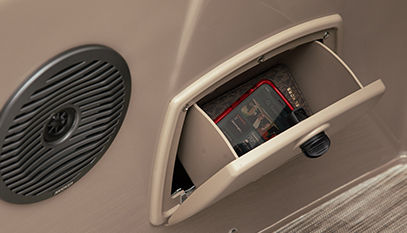 In answer to customer feedback, we now offer a lockable glovebox under the steering wheel on our SV-L Lines. This glovebox is completely enclosed and secure even from the back of the console.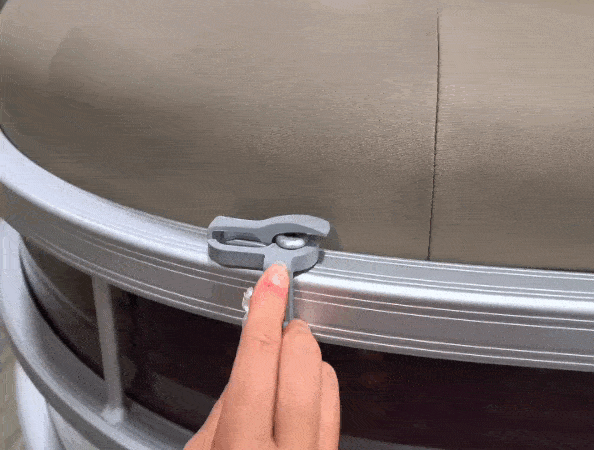 Easy to install and custom-designed for the Bennington rail system, Benny Clips are lightweight, durable and its low profile design ensures no added wear on mooring covers. The Benny clip latch easily slides on and off to secure your fenders and protect your boat. This kit is available in black or silver, shipped loose so that you can optimize the 4 to 6 post locations for your dock.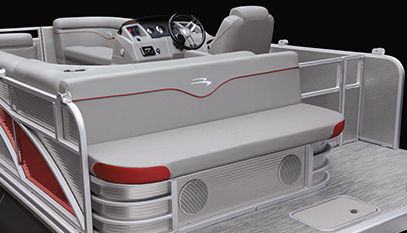 Get a better view of the action in the water with the stern jump seat. Available on several S Series models with carry on fuel, and speakers are optional.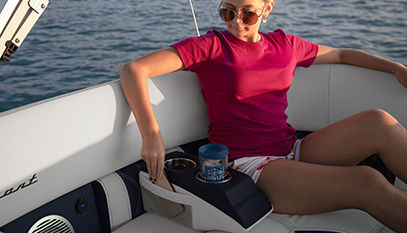 Portable Cup Holder Pocket
Beverage and phone, two things you need easy access to; our portable cupholders accomplish that. They go where you go, and now include a mesh pocket to slide your phone in for safekeeping while you enjoy your day on the water.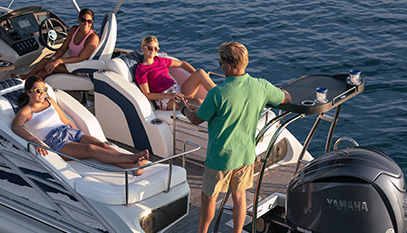 Ski Tow Mounted Bar Table
Extend your entertainment space on to the back deck! The Ski tow mounted bar table stows away during watersports, then easily clips in to place when you need more space for snacks and drinks.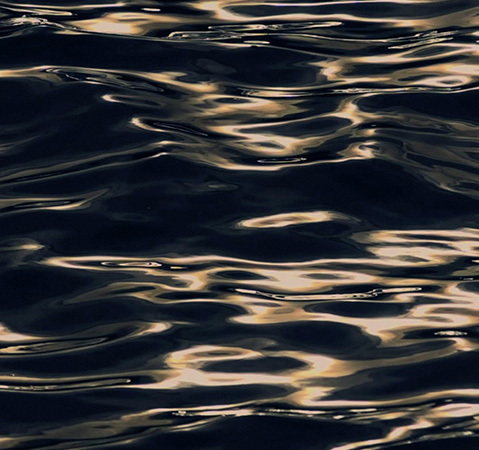 Discover the Bennington Family
View Full Lineup of Bennington Luxury Pontoon Boats