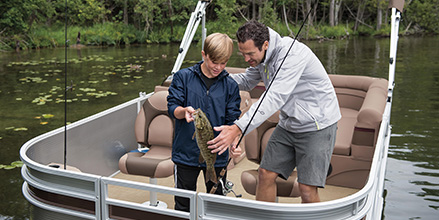 Planning Your Pontoon Boat Fishing Trip
What do you need to do in order to head out on your pontoon boat fishing trip? Here are a few things you'll need to consider.
Transporting your pontoon boat
If you plan to transport your pontoon boat any distance, you'll need to ensure that you have a reliable trailer that fits your specific needs. You will need to consider where you will be launching your boat, how much space you have for trailer storage and of course the size of your boat. Learn more about choosing the right pontoon boat trailer.
Choosing a fishing destination
Every state has its own prime fishing locations. Perhaps you plan to head to a secluded spot that is unknown to most of the public, or maybe you're looking to head out and explore some of the best fishing in the country. Either way you're sure to enjoy your time out on your pontoon boat. If you are looking to reel in a prize fish, the World Fishing Network has listed the 10 best trophy fish destinations in the United States.
Planning your accommodations
No fishing trip is complete without lining up the proper accommodations. With careful planning you can find the right waterfront lodge or cabin to park your pontoon boat. Sport Fishing Magazine has chosen what they believe are the top 5 fishing lodges in North America. Sounds like you'd better get packing.
Packing your gear
Finally, make sure you don't leave any important fishing gear at home. Your fishing checklist should include:
Fire extinguisher
Fishing license
Horn or whistle
Life jackets
Throw cushion
Food and drinks
Hooks
Line
Lures
Plastics
Rod and reels
Weights
Boat plug
Line
Fuses
Spotlight
Trolling motor prop, nut, and shear pin
Aerator
Batteries
Bilge pump
Boat motor
Electronics
Lower unit fluid
Put the plug in
Reels
Running lights
Safety chains
Tags
Tie downs
Tilt/trim
Trailer lights
Trailer tires, jack, wrench & spare
Transom saver
Trolling motor
Wheel bearings
Anchors and rope
Bug juice
Camera
Cap
Cell phone
Coat and gloves
Electrical tape
First Aid
Fish formula
Flashlight and batteries
Jumper wires
Knife
Leader line
Line cutters
Live release formula
Lure retrievers
Maps
Marker buoys
Measuring stick
Needle nose pliers
Needle for air bladder
Net
Paddle/pushpole
Polarized shades
Rain gear
Reel oil
Replacement treble hooks
Scales
Skirts for spinner baits and jigs
Split rings and pliers
Sunscreen
Swivels
Toilet Paper
Toothpicks (for pegging weights)
Tools
Trailer hooks and baits
Weigh-in bag
Contact a local Bennington dealer to learn more about finding the right pontoon boat for you.